Editor's Note: The following testimonial was submitted by Cubo community member Christin C. Before Cubo, she was a mom trying to multitask better. She wanted \ something that could help her feel more at ease while she stepped away from her baby to complete other tasks. That's when she found Cubo Ai.
Want to see a dad's perspective give this testimonial a try.
Why Did You Choose Cubo Ai For Your Family?
Christin: I chose Cubo because this is my first child that had childcare while I had to go back to work. I liked the idea of the live feed to be able to check in on her and be comfortable with her being home. I also like the idea of the camera being able to move with her. Once she is up and moving, we can use it in the kitchen or where I need to and monitor where she is moving in the house.
Unboxing Cubo Ai
Christin: I really like the way that the Cubo is packaged. Everything was in its place and easy to read and follow instructions for putting the Cubo up. It's nice that everything is clearly labeled and you don't have to try to compare how pieces look to know where they belong.
Installation was easy for me. The box is labeled so well that putting the Cubo up was very simple. I do wish the stand was a little more sturdy for the crib and floor but it also nice because it's not very heavy in weight. I really enjoyed putting it together and being able to see all the angles of the camera and decide where the best was to have it.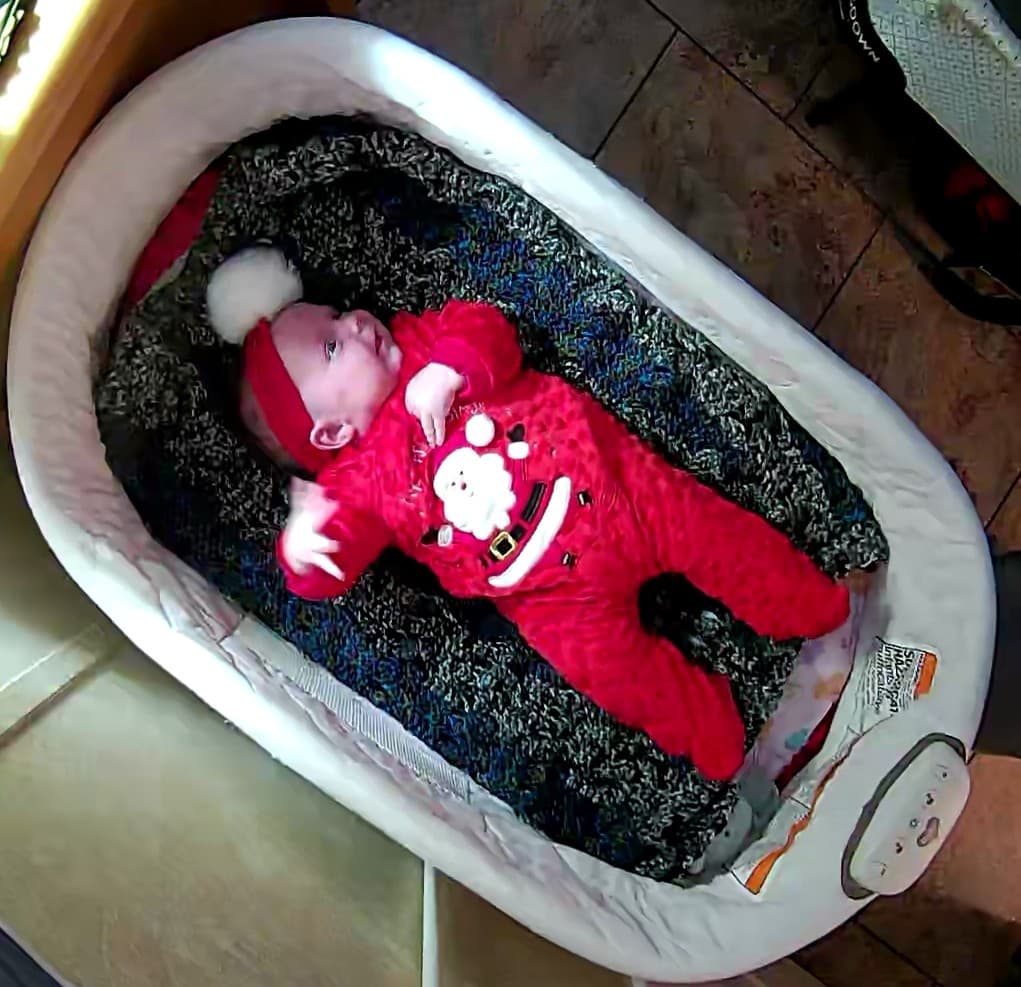 Cubo Ai Helped This Mom Multitask Better!
Christin: Cubo makes it easy for me to feel safe leaving my daughter in the crib. Even if she is awake and I need to do something. With Cry Detection and alerts, I feel like if I need to run multitask better. I'm running to change the laundry or have her somewhere safe while washing dishes. It's easy to do that now with the Cubo monitor watching her.
What Are the Best Cubo Features for Your Family?
Christin: I love the Night Vision on this camera because it is very clear. There's no worrying about not being able to see her without turning on a light at night near her bed. I also really enjoy the Automatic Photo Capture. With this feature, I get pictures I never would have had of her growing and playing in her crib.
The alerts on the camera are great! Knowing I get them, I can move around the house without fear of something happening to her without me knowing. I like the Built-In Night Light because it gives off just enough light to see the baby but nothing so bright it will wake her up. It's also comforting that I can speak to her on the monitor in order to calm her down if she is fussing, instead of physically having to come to the room to calm her.
The Moment's Wall is by far my favorite. Mostly because again I can watch her grow without having to be in the room to take the pictures myself. That is so important for people who don't get the chance to be there every day, like myself.
---
Editor's note: Can you relate to this mom trying to multitask better? Cubo Ai looks to help moms like Christin feel more empowered in their parenting journey, knowing that the road to happy parenting can be present, safe, and secure.
Interested in learning more?