You've Subscribed to our Bi-Weekly Newsletter and Entered To Win This Month's Draw of a $25 Gift Card.
Good luck!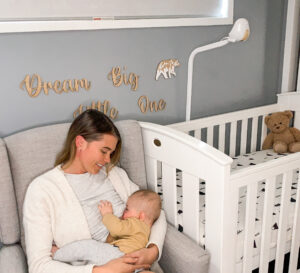 Breastfeeding is such a wild ride, it's something I wasn't expecting. As a first-time mum, breastfeeding is a whole new skill to learn, which can
Read More »
"We couldn't sleep peacefully. At one point we were so sleep-deprived and affected not only our physical and mental health but also the quality of our care to our daughter. We sleep better and more peacefully after buying the Cubo since we do not need to wake up and check her as frequent as before – to see if she managed to unswaddle herself and cause the swaddle to cover her face.
"Cubo allows me to have peace of mind. I love the Danger Zone warnings. It warns me not only when she is crying, but also if she is in the danger zone, which I like a lot because she doesn't usually cry, she just stands up and that's where I made the danger zone, so Cubo tells me she is awake, even when I can't hear her!"
The cry detection is very neat, we only go check the baby out when we hear her cry. When she is playing in her crib we can know when she started crying. So we don't necessarily need to check her out. .The camera sometimes [automatically] takes amazing shots! So I can keep the memories and share with family and friends."