Having a child demands many things from parents. It requires them to go through a 9-month preparation process, it requires a birth process, and finally, getting used to a new phase. To think that you can just go back to regular life after a baby arrives as if nothing had changed would border on naïve.
Some countries take into account this dynamic that families go through when welcoming a new child in their work policy. They do this by allowing for paternal leave to make this transition back to work as smoothly as possible.
Today, we'll take a look at parental leave policies for men and women and which country gives their dads the best paternity leave.
Guide to this post
Parental Leave and Its Effects on Families
Paternity leave is hardly expected in many developed countries. In fact, even Maternity Leave can feel like a touchy subject for female employees and executives. In societies where it's expected that workers show their value by their ability to hustle, it can become taboo to ask for time off.
Of course, as parents we all know the benefits of having a parent at home immediately after birth. Not only is it biologically good for baby to have their caregiver at home as a source of nutrition and to improve brain development, but also for moms to battle common struggles like postpartum depression. Far less accepted and normalized are the benefits of keeping dad at home for a while after baby's grand appearance in the world.
In fact, dads who spend time with their babies also have less depression. Post-partum can affect the whole family and dads seem to get left out of the equation more times than moms. Post-partum depression is something we don't really talk about and when we do it's restricted to the women who have given birth. What about fathers and their post-birth depression?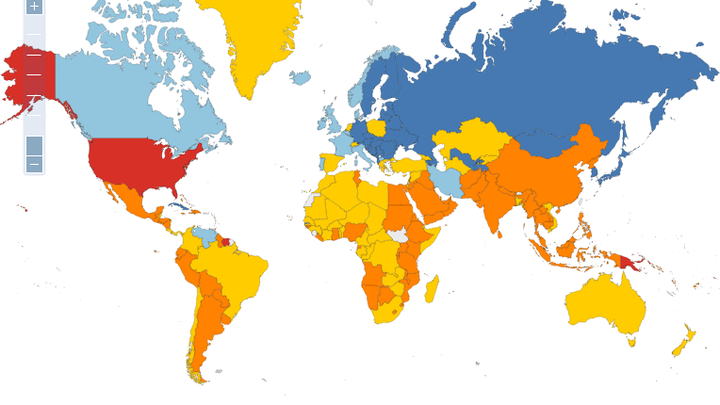 How Long is Maternity Leave in the USA?
Maternity leave in the United States is far below the international top leaders. US Labor Law requires just 12 weeks of leave for new mothers (by birth or adoption). Not only is this below the 16-week WHO-recommended leave, but this is also unpaid leave. Additionally, there are a few more details in the fine print. For one, you have to work in a company of 50 employees or more.
We know what you're thinking. Well, plenty of countries don't offer paid leave, right? Wrong. The U.S. is an outlier in this aspect. Out of 168 countries studied, 163 offer paid leave to new mothers. More importantly for our purposes for in this post, 45 countries guarantee paid leave for new fathers.
Whether this means they get their full wage or just a fraction of it, at the very least they're still getting paid to support their family in the time when they need it most.
So, let's talk about dads. Which country has the best paternity leave? What is paternity leave? Can anyone ask for it? Let's find out.
Exploring Paternity Leave
Paternity leave isn't just the "thumbs up" your receive when you Slack your boss to let them know your baby is due soon. It's not simply to take some time off to take care of your baby. It's job-protected leave. This means that you can devote yourself entirely to welcoming a new life into your home. Regardless of how many emails you don't respond to, how many meetings you don't attend, etc., you will have the job security to return when you finish your leave.
How Long is Paternity Leave For Men Around The World?
In the European Union, 18 of the 28 countries offer parental leave averaging 12.5 paid days off. From just one day in Italy to 64 working days in Slovenia. The percentage of fathers that take the leave isn't something to be feared, as if somehow we'll lose all young workers to their newborn babies. In fact, the highest percentage of fathers who took advantage of their leave in the E.U. was that of Sweden, sitting at 44%. (Source here)
So, why is it important to offer paternity leave? On top of the health benefits for both dad and baby, paternity leave opens the door for a more gender-equal distribution of care work. It supports women's return to the labor market. It evens things out within the home.
Which Country Has The Best Paternity Leave? (And what we can learn from them)
To find the best paternity, we'll have to look to Asia. Asian countries lead the world in how they treat fathers in their societies. Not far behind are Scandinavian countries and finally, some surprises.
#1 Japan: 30 Weeks Paternity Leave Paid in Full (52 Weeks Total)
At first glance, Japan is a role model. They offer 30 weeks to new fathers paid in full. What they mean when they say "in full" is that, at no tax and a 67% wage, it's basically the equivalent of their regular wage. After 180 days, they'll get 50% of their wage.
That's almost 8 months comfortably away from work! A full year if they'd like to stay longer for a smaller percentage of their wage. Unfortunately, just 5% of dads used it. Staff shortages, bad employers, and a competitive atmosphere add to the reasons why. So perhaps an approachable paternity leave starts with more than the ability to take it. It's social permission we must give fathers.
#2 South Korea: 15 Weeks (53 Weeks Total)
South Korea's Paternity Leave policy was introduced in 2007 and it wasn't very popular. How much would they get, really? Well, for 3 days, fathers can get their full wages in "paternity pay" and two days unpaid. Then, the next year goes like this:
3 months paid at 80%
9 months paid at 50%
Men who were offered this, frankly, sweet deal often turned it down. The male-dominated workforce in Korea made it so if you're a man, turning down a job is a "no-no". So, while the permission to stay home is there, there's no positive environment to take it.
#3 Spain: 12 Weeks Total
Spain has leveled-up in the past few years. Between 2016 and 2020, they increased paternity leave from two to 12 weeks incrementally. Next year, they plan to move up to 16 weeks, which will then match the number of weeks on their maternity leave. These weeks are paid at 100% of their wage.
If unused, the weeks aren't able to be transferred to their partner and just basically go to waste. How many Spanish fathers take their leave isn't super clear, but the fact that they're increasing the weeks could be telling.
#4 Sweden: 11 Weeks Full-Time Equivalent (14 Weeks Total)
In Sweden, the non-pregnant parent (not limited to men) can take the first 10 days paid at 78% of their wage for the birth. All parents can then take up to 480 days of parental leave total (between the two of them). 90 of these days are reserved for each, the others up for grabs.
To do this, they have to meet certain work history and income requirements, but given that they do the benefits are great. They'll have 195 days at 78% of their earnings and 45 days at $19 per day. It's a low wage for being a parent in those last 45 days, but it sure beats $0.
#5 Iceland: 9 Weeks Full-Time Equivalent (13 Weeks Total)
In Iceland, fathers can take three months of leave, as can mothers. these three months are non transferrable. Additionally, if they choose, an additional three months are available and the parents can choose who takes them out of the two.
You don't even have to meet an employment requirement to take it. However, because of the gender pay gaps (yes even Iceland has pay gaps) fathers are paid more during the leave.
#6 Canada: 5-8 Weeks Total
All parents are offered 5-8 weeks of leave in Canada. Of course, you have to qualify. First, you have to use some of the 35-61 weeks of shared parental leave. Basically, Canada just wants parents to be at home with their baby, can you blame them? Parents can claim 55% of the average insured earnings, though they have a cap, for 35 weeks or 33% for 61 weeks. Again, you're getting paid to be with your baby. Any percentage makes it seem like the government truly cares about families.
#7 Mexico 1 Week Full-Time Equivalent, Total
In Mexico, dads get 5 working days of leave at 100% of their wage. To qualify, you need to have a formal job, though. Which means that in Mexico's economy, about 60% of men don't qualify for the parental leave. One way that it is innovative for the region is that it's offered to same-sex couples as well.
#8 Australia: 0.9 Weeks Full-Time Equivalent (2 Weeks Total)
In Australia, the mother automatically receives the 18 weeks paid leave (at minimum wage, about $500/week before tax). If she chooses not to take this leave, she can actually transfer it to the father of the baby. There's "dad and partner pay" which is essentially a stipend, giving new fathers and non-pregnant partners of mothers two weeks of pay, also at minimum wage.
#9 United Kingdom: 0.4 Weeks Full-Time Equivalent (2 Weeks Total)
In the UK, only employees can take leave. No self-employed individuals or contractors will qualify. The rate is about $200/week or 90% of the average weekly pay at their job, whichever is lowest. Fathers can take this leave for up to 2 weeks and is available from the birth of the child up to 56 days later.
Unpaid leave extends to 18 weeks available until the child is 18 years old! It has a limit of four weeks per year. This means your family could take yearly vacations every summer for a month to spend time together until your child is old enough to go to college! It may be unpaid, but it still shows a big commitment to families for the long-term.
How Do They Compare to The United States?
The United States offers no national paid leave policy (paternity leave). Unpaid leave covers 60% of Americans. If you're in eight lucky states (California, New Jersey, Rhode Island, New York, Washington, Massachusetts, Connecticut, and Oregon, plus D.C.) you could benefit from one of their own family leave policies which do offer a percentage of an employees salary.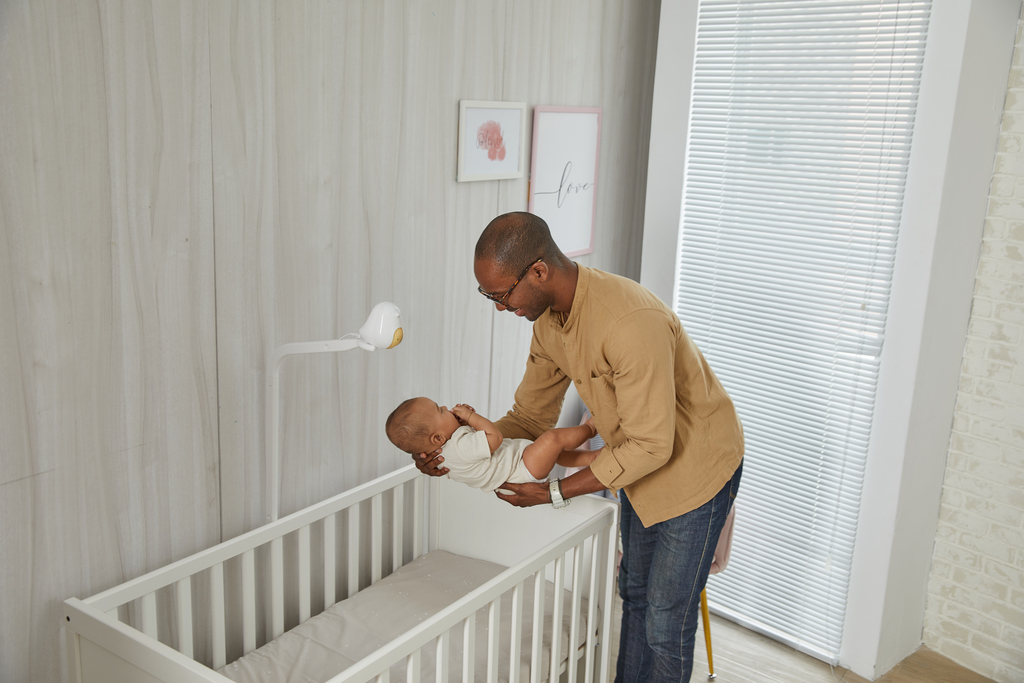 How American Dads Stay Connected to Baby
Since in the United States fathers are largely neglected by labor law in comparison to mothers and especially to the rest of the world, how do they stay connected? Of course, technology has come to a point where it is quite easy to find out how your baby is doing with a quick call or a FaceTime. More innovative yet is the way that young parents are using their smart baby monitors to return to work while not missing their little one's major milestones.
The top baby monitors on the market now offer dads features like 2-way audio, 18-hr playback to see anything that they didn't catch live, digital scrapbooks of cute moments, and more. Even if your country doesn't offer as much parental leave as you'd like, you can still be with your baby while you're away. This is why more and more dads are opting for smart baby monitors that they can check just by opening an app on their phone.
Information for this list was sourced from UNICEF.
---
---