When it comes to shopping for a newborn, parents are bombarded by a variety of choices. This article aims to help parents like you cut through the noise and figure out the best choice for you and your baby. Let's take a dive into Cubo Ai Plus' 2 sets of smart baby monitors.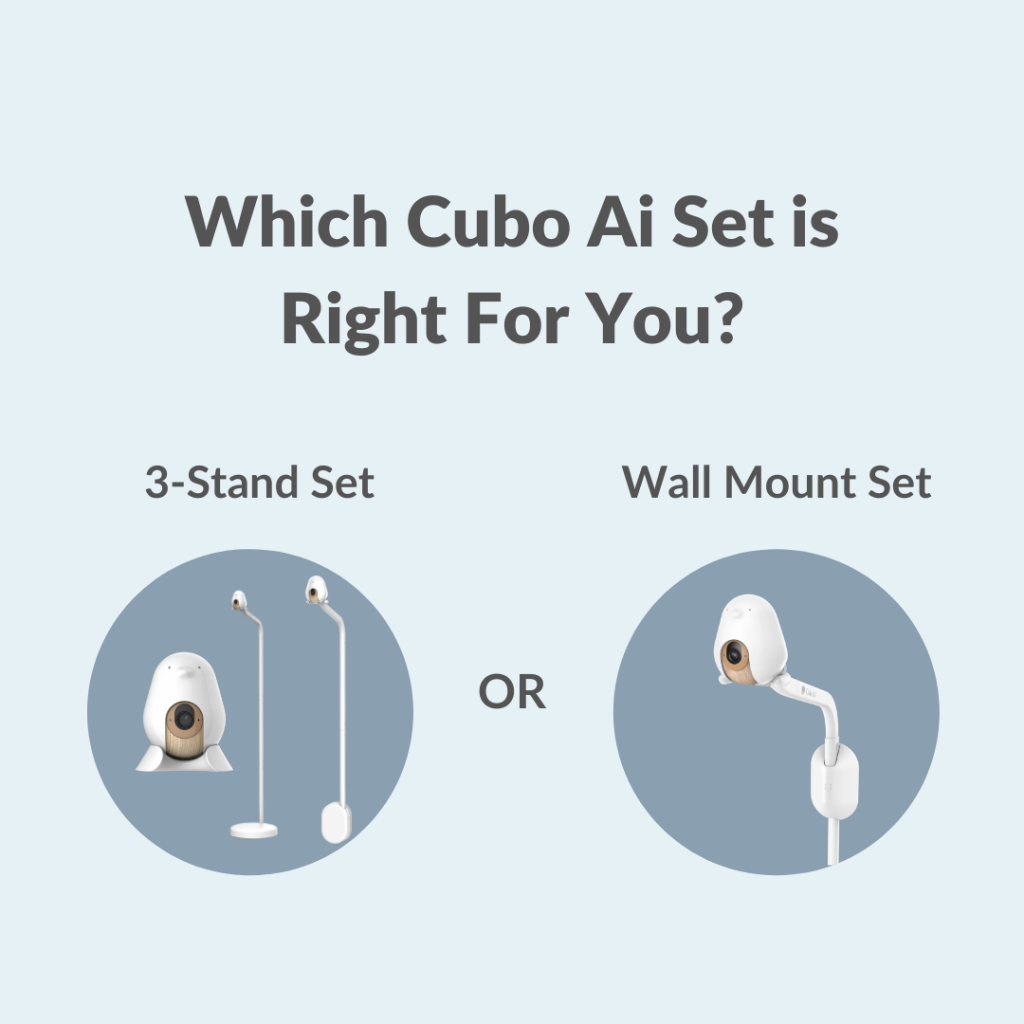 Guide to this post:
3 Stand Set
This set comes with these 3 components: a floor base, a crib mount, and a mobile stand. Each component serves a different purpose, but ultimately gives longevity to the baby monitor well into the toddler stage. Below, we will dissect what each component does:
Floor Base
The floor base allows parents to set the baby monitor right above the baby yet still keep it at a safe distance from the baby's hands. Its base sits directly on the floor, and can be simply tucked or slid underneath the crib for its setup. It's designed to move around freely, whether your baby is napping in another crib or playing in another room. With an effortless set up like this, neither the thickness of the crib nor the density of the wall would be a concern. All it needs is a flat floor and it's ready to go.
Crib Mount
A crib mount allows parents to attach Cubo Ai Plus to the spindles of the crib for a closer view of the baby. This is perfect for parents who only want to monitor their baby in the crib. This setup requires next to no space and allows the baby monitor to be transported with the crib. Set the angle and the distance to your liking and it will take care of the rest.
Mobile Stand
A mobile stand transforms Cubo Ai into a to-go baby monitor, allowing parents to place it wherever they want: in any room of the house, and anywhere in the world. It's a perfect companion for a weekend getaway with your baby, whether it's at an airbnb or at grandma's for a sleepover. Bring the mobile stand and it works just like the way it does in your home! A mobile stand also allows your Cubo Ai to transition from a baby camera into a toddler camera. When your baby begins to crawl, you may program a "danger zone" to have Cubo Ai Plus alert you when your baby enters the specified dangerous area.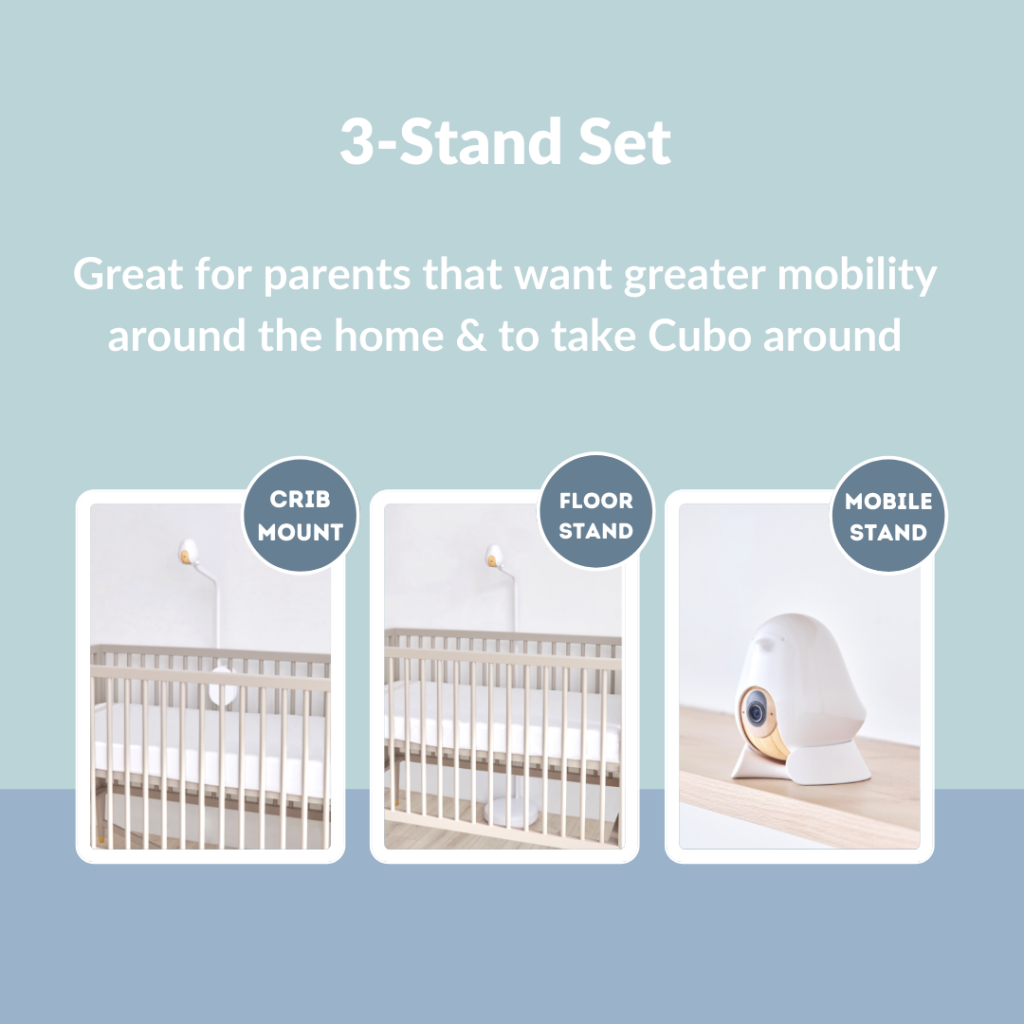 Wall Mount Set
This set is designed to have the baby monitor mounted to the wall. It is the sturdier option out of the two. It has all the features of a Cubo Ai smart baby monitor at a more affordable price. Let's take a look at what other benefits it comes with.
Wall Mount
A wall mount allows the baby monitor to be sturdily mounted to the wall without taking up any floor space –which may be the solution for smaller nurseries. It not only provides a bird's-eye view, painting a full picture of the baby's surroundings, but also keeps the camera out of your baby's hands. With a tilt of the angle, you could turn it into a wide range danger zone alert camera.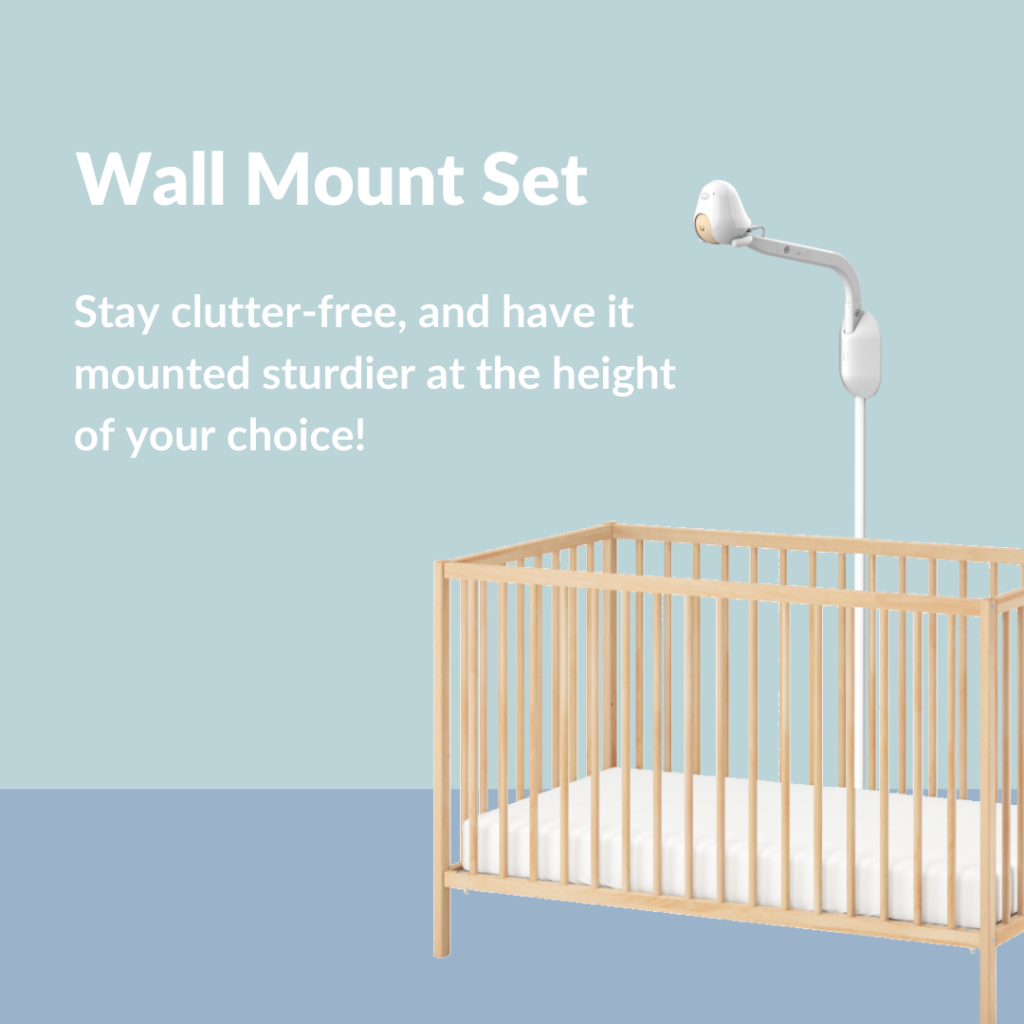 Mix and Match
If you're leaning towards a Wall Mount Set, but could use the help of a to-go baby monitor, there's an option for you to purchase a mobile stand separately. Don't hesitate to reach out to our customer service team for more information on mixing and matching Cubo Ai's sets.
Picking Your Cubo Ai
Think about your lifestyle and what works best for you. Do you have other kids? Would you prefer a baby monitor that can be set down anywhere in the house? Or is it more important that the baby monitor is completely out of reach of your older kids who might be curious about our little birdie? Perhaps you are looking for an angle that gives you an idea of what's going on in the rest of the room instead of just the baby. Maybe neither of them are important and you just want a smart baby camera that can alert you when your baby's face is covered.
At the end of the day, you know what's best for you and for your baby. Follow your heart and we hope you love Cubo Ai as much as we do!
Cubo Ai 3-Stand Set
Cubo Ai Wall Mount Set
Includes a Cubo Ai camera
✓
✓
Main components
Floor base
Crib mount
Mobile stand
Wall Mount
Key Features
Mobility
Adaptability
Sturdiness
Keep out of Baby's Hands
Advantages
Take Cubo Ai with you
Secured to the wall
Suitable in smaller spaces
Transition into toddler camera
✓
✓
Price *USD
$199
$249
Drilling required
X
✓