The time has arrived for your little one to become an explorer! When your baby begins to crawl, it's an exciting time for new parents. Crawling is an exciting milestone for babies and an essential stage in their physical and cognitive development. But why is it so important? And how can you know they're doing it right?
One of the first things new parents consider is keeping their baby safe when crawling. But with so much information available, it's hard to know where to start.
Look no further; we've got you covered! Learn how to keep your little one safe by babyproofing your home, and watch as they begin exploring. Read our guide and discover the steps to keep your crawling baby safe from your home's danger zones.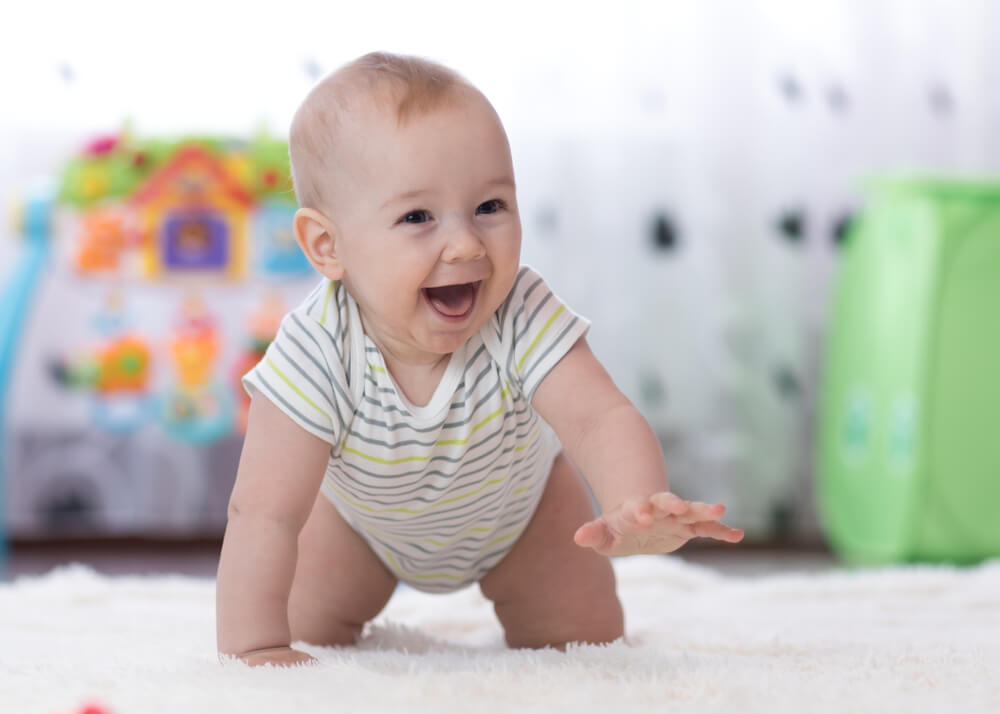 When Do Babies Learn to Crawl?
Babies learn to crawl at their own pace, but typically crawling begins between 6 and 10 months. Keep in mind that the start of the crawling stage doesn't look the same for every baby, and they might need some guidance.
Baby crawling is crucial for your little one's development. It helps strengthen muscles in the arms, shoulders, and back. Moreover, it stimulates babies' brains as they explore their environment. You'll know your little one is itching to crawl when they start showing specific signs. You can read all about this in our previous guide: When Babies Crawl and How to Help Them.
How to Help Baby Crawl?
You can help your newborn learn to crawl in many ways. For instance, you can encourage them by giving them tummy time every day when awake. Tummy time helps babies gain muscle strength in their back and neck, which are necessary to support their crawling skills.

Joining Baby for some floor time is another way to encourage exploration and movement. Not only is it fun, but it's an excellent way to build creativity, strength, and cognitive development. Create a joyful bonding experience by spending time together sitting, scooching, and moving on the floor!
Safety Checklist When Baby's on the Move
We know safety is the number one priority for your little one. Keep Baby safe as they explore the world around them by following these steps:
Add bumpers to sharp furniture edges
Adding bumpers to sharp edges of furniture prevents bumps and bruises. If Baby does wander into the edge of furniture, the smooth bumpers won't harm their delicate skin.
Block off stairs
Block off stairs with a baby gate to ensure they don't wiggle up the steps. Curious by nature, babies often explore where they shouldn't. So make sure they can't access any steps to crawl up or down. Also, door knob covers and baby gates are helpful for preventing your baby from wandering unsupervised.
Section off danger zones
Baby safety gates aren't just for stairs! You can use them to section off danger zones such as bathrooms, outdoor areas, or any room at home. You can also do this by making sure doors are firmly locked when not being used.

Keep all plugs and cords out of reach
Eliminate all choking hazards by keeping plugs and cords out of sight and out of reach. Tuck them behind furniture and secure the cables so Baby can't grab them.
Secure heavy furniture
Secure all heavy furniture to the walls, so there's no risk of it toppling over.
Lock cabinets
Lock all cabinets with child-lock devices to ensure Baby's little hands can't reach in. This is particularly important for cabinets that contain medicine and cooking equipment.
Plug up outlets
Prevent Baby's fingers from poking into electrical outlets by blocking them off. You can do this with plastic plugs, slidable covers, or electrical tape.
Remove items from the floor
Ensure that all loose toys or decorative items are off the floor. These can pose a choking hazard for little adventurers, so make sure floors are clear before Baby sets out and explores.
Keep pets out
If you have a pet, ensure they're not in the room when Baby is having tummy or floor time.
Turn down heaters
Turn down your heaters to a low setting so that Baby doesn't burn their fingers if they decide to crawl over and investigate.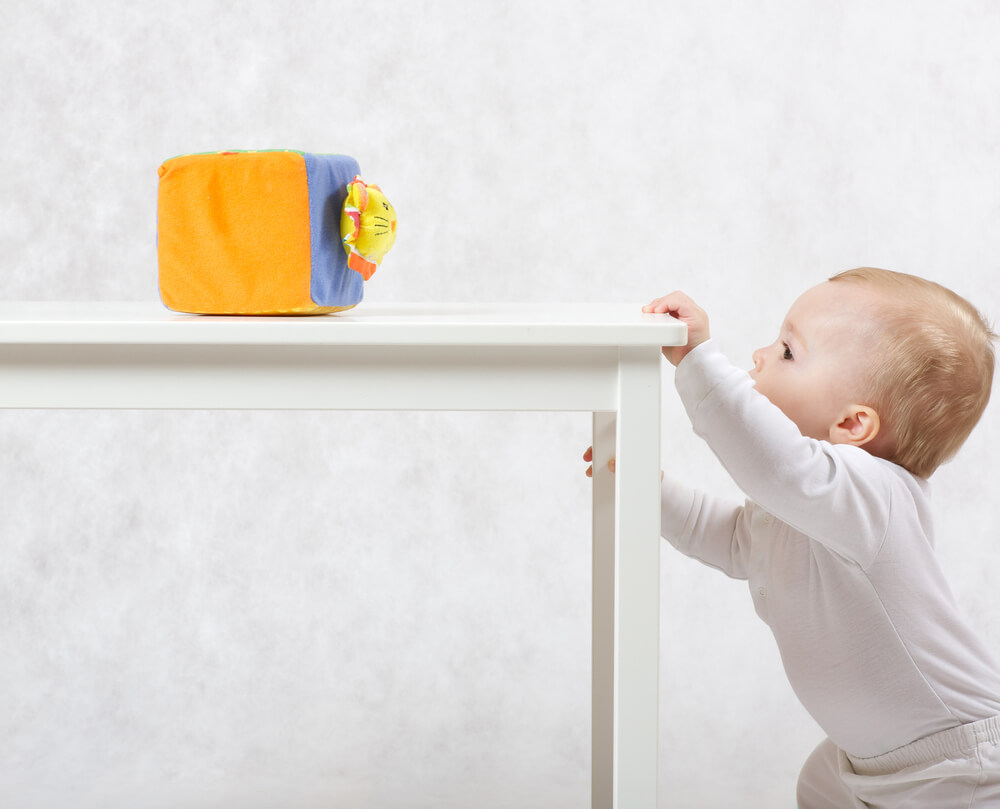 Babyproofing Every Room in the House
Consider every room when babyproofing for your little one. Our guide on How to Babyproof Your Home covers the essential steps to take care of your little one. Here are our top tips for keeping Baby safe inside:
Kitchen – In your kitchen, make sure to place a baby gate at every entryway. This is the best way to prevent Baby from accessing the kitchen without supervision. It's important to install baby locks for cabinets, drawers, ovens, fridges, etc. To keep your little one close, you can use a playpen in the kitchen; this keeps them safe and secure while you prepare food.
Living Room – The main points to consider in the living room include outlets, hard corners, and TV mounts. Ensure all outlets are covered and electrical cables are tucked away out of reach. Add foam bumpers to hard corners, and make sure TV mounts are secured to the wall.
Bathroom – Bathrooms have a few key points to consider when babyproofing: the toilet, cabinets, doors, and hot radiators. To prevent any harm, make sure to install baby locks for all the drawers and cabinets in your bathroom. You can also install a toilet seat lock to keep little fingers from trying to lift the lid.
Checking in on Active Baby with Baby Monitor
No matter how much babyproofing you've done at home, you'll still need to watch Baby carefully when they crawl. Keep an eye on them to make sure they don't get into any mischief or get hurt. And baby monitors can be a helpful addition. Not only are they great for cribs, but you can also use them in every room!
CuboAi Smart Baby Monitor Danger Zone Alert
Baby monitors can be used to monitor crawling babies and make sure they don't enter dangerous areas of the home. And CuboAi's Danger Zone Alert feature is the perfect solution when your little one begins to explore. Simply set designated "danger zones" on the app, and an alert will be triggered when your little one ventures close by.
The CuboAi App allows you to easily mark off multiple Danger Zone areas to make sure Baby is exploring in a safe space. You can also keep an eye on Baby while busy with household chores by using the live video feed on the App to monitor their movement. If Baby does head to where they're not supposed to, you'll be the first to know! An alert notification will immediately be sent to your iPhone or Android device, where you can view a photo of the event.
Closing Thoughts
You can't be too careful with your little ones when they begin crawling. Babyproofing your home and keeping an eye on Baby while they explore is the best way to prevent accidents. Monitor Baby's whereabouts when multitasking at home using the CuboAi Smart Baby Monitor. We're here to support Baby's every little step into the big new world!