When you take your newborn home, it's such a precious time. Those tiny fingers and toes and wide innocent eyes now depend solely on you. You prepare: you read the books and listen to the podcasts and buy every baby product known to man.
It can be so hard to find reliable data about newborn safety online. The United States Consumer Product Safety Commission warns new parents that unsafe products for newborns are still on the market today.
Baby mittens are a controversial topic in the parental sphere. A quick search online will give you mixed opinions on whether you should buy them. Parents want clear studies that show are baby mittens safe to use and, more importantly, can your baby sleep in them?
As usual, we have done the research – so you don't have to!
Looking for more about safe crib accessories? See our guide.
What Are Baby Mittens?
Baby mittens are essentially the same thing as children or adult mittens. They are protective gloves for babies. While adult gloves are typically knit or fleece, baby mittens are generally made from soft, breathable materials. You can buy many different types to suit your needs: waterproof, indoor, and scratch prevention.
Baby mittens come in many prints and colours, suitable for all gender identities and can be an excellent gift to give an expectant mother. You can find them in most baby shops and online stores (don't worry, we've found the best ones!).
I know the real question on your mind: are baby mittens safe?
Baby mittens vary in design, but they all have one universal feature. Elasticated bands at the wrists prevent your baby from removing the baby mittens and therefore stops them from becoming a potential choking hazard. I can't say it's impossible, but it is highly unlikely your baby will remove them… unless your baby is a Houdini!
Does My Newborn Need Baby Mittens?
There are many reasons new mothers want to use baby mittens. They're not just cute; they also have a function.
You might not know this yet, but your baby's fingernails will grow quite quickly. Though their ten little fingers are soft and squishy, newborns fingernails can be surprisingly sharp. Newborns are known to cause accidental injury to themselves by scratching.
Babies tend to move their hands around as they are developing, and this can cause them to scratch their eye or leave marks and cuts on their face and skin. Baby mittens can help prevent this. They are also great for babies that suffer from a skin condition.
Babies depend on you for temperature control. Pediatricians advise that babies lose heat through their hands and feet and not panic if they have a slight bluish color. You can assess if they are cold by simply feeling the temperature of their tummy. The optimum way to control this is by adding light layers that you can easily remove during nappy changes.
Despite this, many parents wonder are baby mittens safe to leave on overnight. How can you keep them safe? Experts have set a few guidelines for that.
How to Keep My Baby Safe When Wearing Mittens
No matter your worries, the best thing you can do for your newborn is to follow government safety guidelines. These guidelines have years of research to back them up.
The American Academy of Pediatrics recommends that your baby wear one additional layer than you would wear in bed [3]. Choose breathable cotton materials that will prevent overheating and SIDS.
It's crucial to promote movement. Your baby learns and grows through exploring with their hands. Some parents feel baby mittens restrict this. Make sure you choose mittens that are the correct size and roomy enough to allow the fingers to stretch.
Is your 3-month-old still wearing mittens? Talk to your pediatrician if you feel your baby has a lasting need for mittens. The research indicates babies should stop wearing mittens at this age – except in the event of certain conditions, e.g. Eczema.
Top 5 Best Baby Mittens (that stay on!)
Here are the top baby mittens for your little one, as chosen by parents just like you.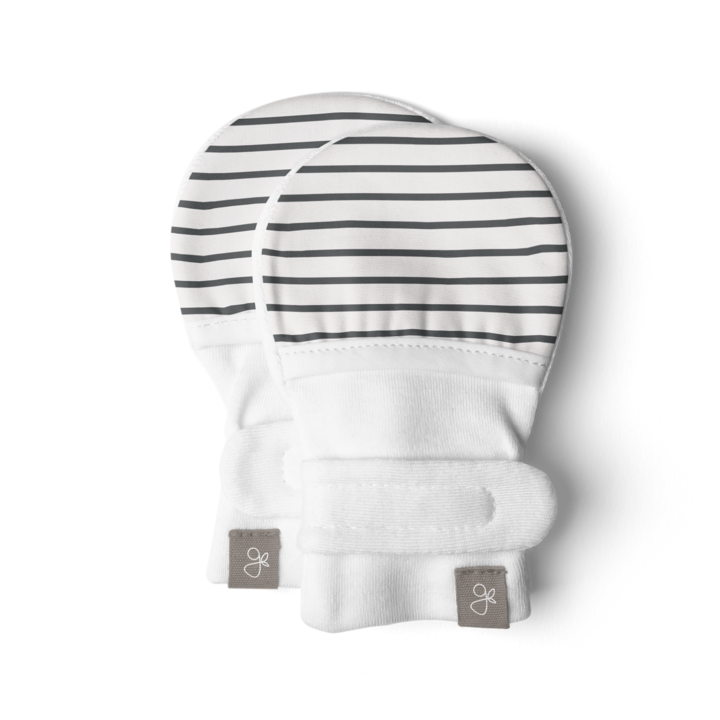 1. Best Scratch Free Baby Mittens: Goumi Organic Gray Stripe Mittens $14
The Goumi baby mittens are the top mittens overall. They feature on most lists as a must-buy and have additions that make the baby mittens safe to give peace of mind.
They include a bamboo and organic cotton blend that is soft on the skin and protects your baby from scratches. The gray stripe is gender neutral and suitable for all babies.
The two-part closure system makes the baby mittens safe and stops them from falling off. They are also adjustable, so you will get good value for your money as you can continue to use them while your baby grows.
You can purchase these over on the Goumi website.
---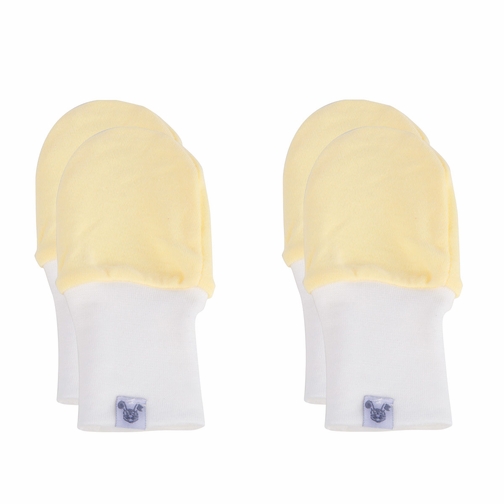 2. Best Non-Slip Mittens: Crummy Bunny Newborn No Scratch Mittens (2 Pack) $12
The Crummy Bunny baby mittens are adorable.
They are made from 100% cotton with a stretchy band and come in neutral colors. They don't use velcro, and because of this, don't restrict your baby's movement or pinch their wrists. The mittens are roomy, encouraging your baby to explore with their hands.
These baby mittens are durable and come with a one-year replacement guarantee should you lose or damage them! Ideal for those times, the odd one vanishes in the wash.
Buy this Crummy Bunny mitten set today.
---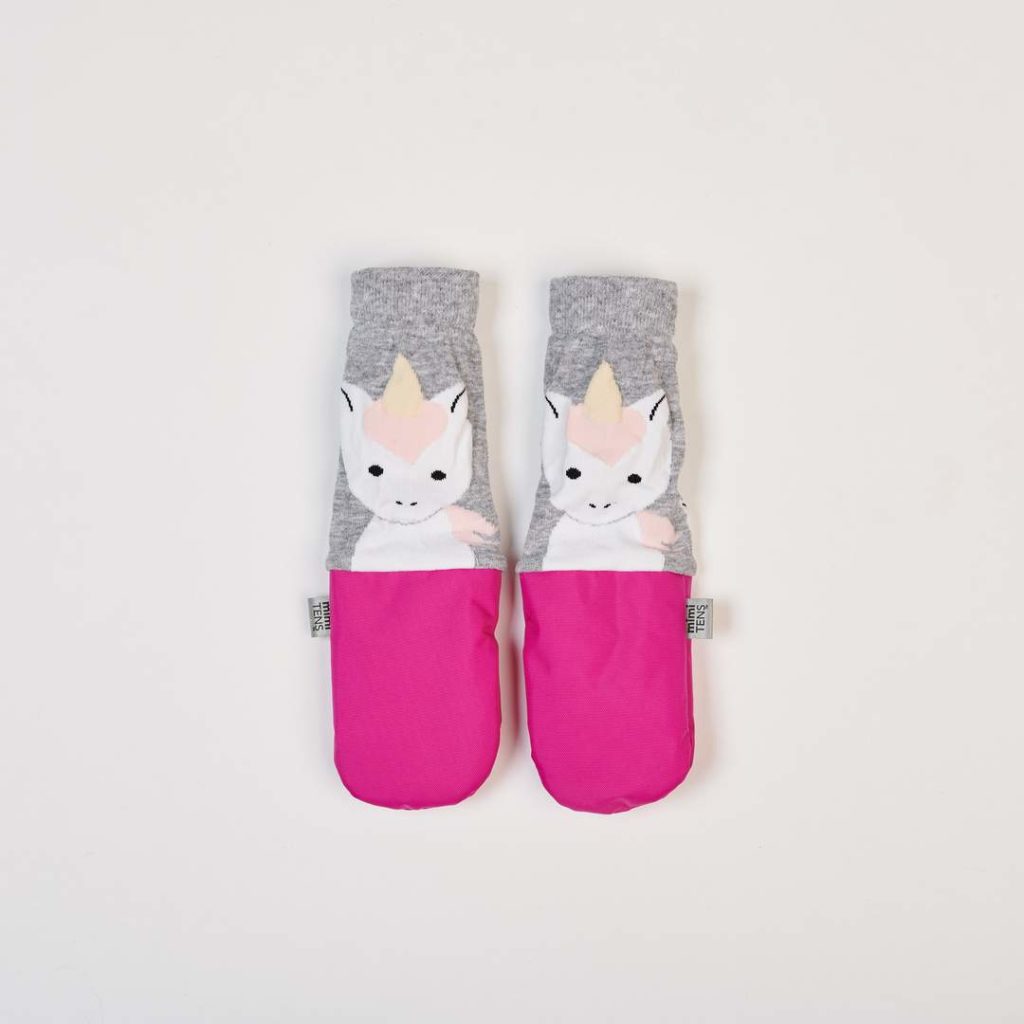 3. Best Waterproof Mittens: MimiTens Unicorn Pink Mittens $30
The MimiTens baby mittens are made with a unique 420 denier water-repellent nylon. They are ideal for the baby that has frequent leaks or loves to chew on their hands.
They come in a range of exclusive animal designs, but we love this unicorn design the most! They also stock five different sizes to suit your growing baby.
The cotton/lycra blend sleeves make these baby mittens safe by preventing easy removal. If you live in a colder climate, these are the mittens for your baby.
Check out the MimiTens website now.
---
4. Best Integrated Onesie with Baby Mittens: Gerber Long Sleeve Bodysuit with Mitten Cuffs (3 Pack) $16
If you require baby mittens but you are concerned about your baby removing them, the Gerber baby bodysuit with mitten cuffs are perfect for you.
Take the worry out of purchasing baby mittens by integrating them into your bays outfit. This innovative design is made from 100% breathable cotton. It features mitten cuffs that can fold back when you decide to remove them. This bodysuit is perfect for layering during colder months and has expanded neckline and snap closures for easy access changes.
Take a look at this three-pack set to get a great bang for your buck.
---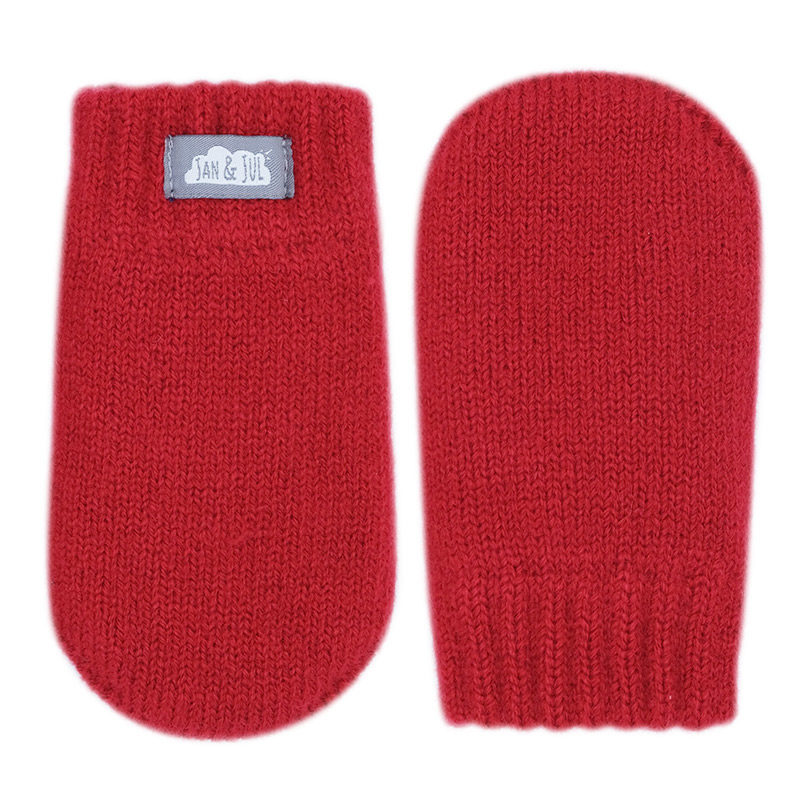 5. Best for Winter: Jan & Jul Sherpa Fleece Mittens $14
Perhaps you live somewhere that is cold year-round, and you are concerned for your newborn. Jan & Jul stock a fantastic range of warm baby mittens that are suitable for a winter climate.
These fleece-lined mittens are hand-knit and use no harmful chemicals or dyes. They feature an elasticated wrist band which makes the baby mittens safe to leave on. The Sherpa fleece lining ensures your little one will stay toasty throughout the day.
Jan & Jul offer two different sizing options and a fabulous choice of colors. Try these red knit mittens that are great for boys and girls.
---
How to Keep Baby Mittens On
At the end of the day, your baby will be alone at some point. How do you keep them warm and make the baby mittens safe to sleep in?
Choose a pair that is snug and expandable so that your baby won't be uncomfortable. Stay away from brands that have hanging strings or dangling pieces that could be a choking hazard. Always check the sizing of the product and pick a velcro or integrated design that will stay on. An elasticated fabric improves the fit of baby mittens, and long sleeves are a brilliant feature to help keep them on.
The Verdict
Baby mittens are a great addition to your baby's wardrobe but proceed with caution. Some designs can act as choking hazards and present an increased risk of SIDS. Do your research and pick the mittens to suit your baby and not the print you think is the cutest. Supervise your baby when possible and if you leave mittens on overnight, ensure the fit is correct. If you are concerned, try an integrated onesie mitten that guarantees the baby mittens safe to use. Consult your pediatrician for the use of baby mittens over three months of age.
References
About the author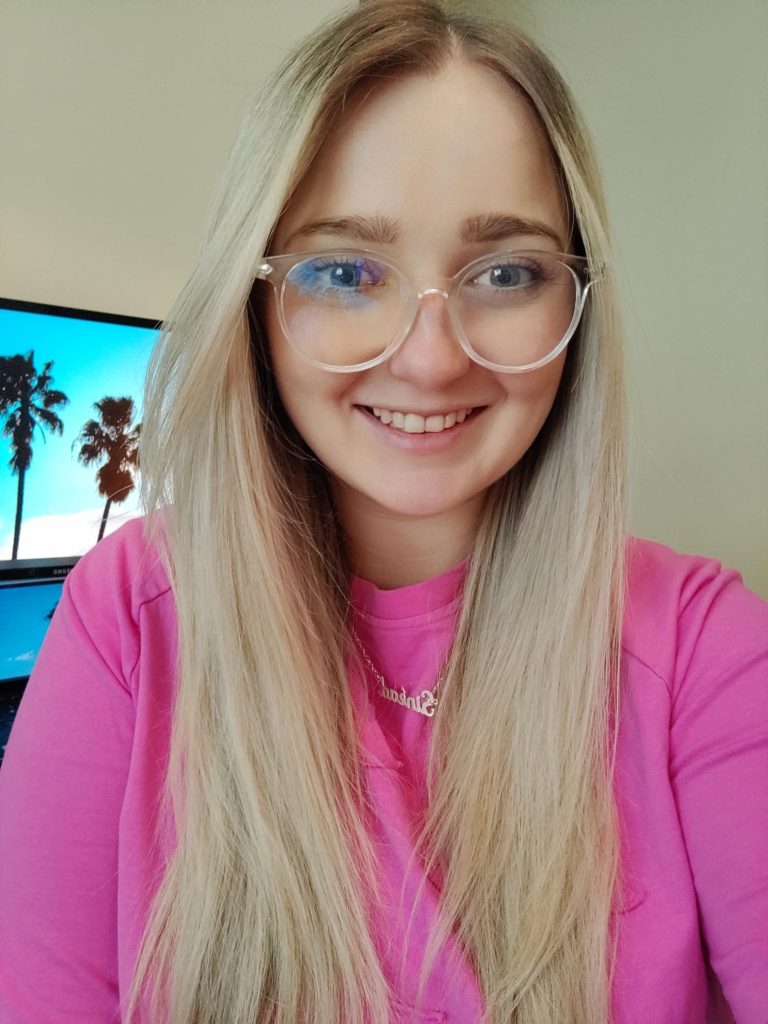 Sinead Carey is a part-time freelance writer and full-time nurse in Ireland. She is passionate about women's health and enjoys writing for wellness, travel, and lifestyle brands. When she doesn't have her head in a book, she spends time cuddling her Frenchie and eating Mexican food. Follow her on Instagram @carey_creative
---
You might also like: