Hey, Realizing you're pregnant is a rollercoaster. Cute pregnancy announcement ideas aren't always top of mind when you find out!
For some women, it comes unexpectedly. For others, it comes after lots of work, sacrifice, and doctor's appointments. For others still, it's a planned out process that suddenly pays off.
Whichever type of parent you are, welcome!
We know it's easy to get overwhelmed and start googling your first semester broken down week-by-week and what foods to avoid and all the things-
-but wait! Don't go yet!
First thing's first. How can you announce your pregnancy to your husband, boyfriend, or partner? There are lots of ways to do cute pregnancy announcements to husbands that will be worth sharing (once you're public with your pregnancy, that is).
From funny announcements, Etsy announcements and lots of other surprises, we'll go through some common questions about how to spill the beans with the next most important person in baby's life (after you, of course).
How soon should you tell your husband you're pregnant?
This is of course entirely up to you. If your partner is involved in you and your baby's life, you want to give them time to process the information. After all, they'll be becoming parents soon too!
Not sure how long you've been pregnant? Use this pregnancy calculator to see how far along you are.
Due Date Calculator
When did your last period start?
Generally, how long are your cycles?
Your baby is likely to be born on or around*
*Only your physician can accurately determine your due date or the date of your conception based on his/her knowledge of your complete medical condition.
In partnership with Clearblue®.
9 months may seem like a long time, but in reality, women who give birth are given a lot more time to prepare than their partners for a baby. The changes are happening inside you 24/7, so, there's hardly a way to avoid it. Give them a chance to catch up by letting them know as early as you feel comfortable sharing. That can mean you're waiting for the doc to tell you this pregnancy is good to go or that you're processing the idea first.
Either way, there's no right or wrong way as long as everyone who needs to know is informed, including you!
How do I announce my pregnancy to my husband?
There are so many ways to announce your pregnancy. In history, they'd have birth announcements in newspapers and send out announcement cards. Now, we start announcing the news long before baby is born and we start with the father (or in some cases, the mother).
Today we'll go through some of the most innovative, interesting, and creative ways of announcing for any budget. Whether you want to buy accessories to announce or just want to come out and say it, we've got you covered.
In a cupcake
If you're a talented baker (or even just a decent one) you might want to try putting a little baby in there, a figurine of course. Make sure its oven safe, or else that cupcake might end up being a fire hazard, but other than that, go for it!
You might get one of these "lightbulb moment" reactions, like this couple.
On your older kids' tshirt
If you have other children, their tee shirts can be a great place to place the news that your husband is about to be a dad to two (or more!).
There are lots of ways to do this including buying shirts on Amazon, having them custom made at a made-to-order online store. The options are endless and you can either challenge your creativity or go for one that someone else already came up with.
The good old bun in the oven idea
Sometimes, you can just go with a classic. This classic in some cases can also be the cheapest!
Like, when all you need is to own an oven and buy a bun. Lead your partner over to the oven and ask them to open it, then tell them that's the news. It might take a minute to get the message across, but, like this couple below, they'll probably get it.
The "baby" meal
This mom is clearly a pro. She's got her husband and kids at the table, all eating vegetables happily (how does she do it?) and trying to sort out the message mom put in their food. She added all "baby" vegetables, the kids ate it up, and the dad caught right on to the announcement, preparing for a new baby.
Granted, this dad's reaction is less than ecstatic, but we're going to say that he's probably just not that expressive.
The meal, in our opinion, is genius.
Using quotes
The beginning of a pregnancy can be overwhelming enough without having to think about how to announce it. If you're looking for quotes there are plenty of websites that give you surprise pregnancy announcement to husband quotes or captions for revealing your newfound secret.
You can write these on a whiteboard, put them in a
Here are some qotes/captions to get you started:
"The best is yet to come… (due date)."
"Welcoming our little one in (due date)."
"Being pregnant means every day is another day closer to meeting the love of my life."
"And baby makes three."
"You + me = three."
"An adventure is about to begin."
"First came love, then came you."
"Even miracles take a little time. #babyontheway"
"We can't wait to meet our new addition in (due date)."
Surely, there are hundreds of others out there that will speak to you and some that you can write yourself that are specific to your family.
Our favorites are hyper-specific; when families are in the medical field, the food industry, are big fans of coffee, etc., and use that in their announcement.
Etsy pregnancy announcement to husband
This has to be one of the best ideas for announcing your pregnancy.
On Etsy (and Amazon as well) yo can find custom made fortune cookies to announce your pregnancy to anyone you like. Whether it's for your husband, partner, brother, sister, parents, whoever, it's so creative.
This can be made into even more of a surprise if you schedule it after a chinese food dinner. They'll never know that you slipped those fortune cookies in if you coordinate with the restaurant!
Pregnancy announcement to husband card
Sometimes, going all out into an elaborate scheme to announce your pregnancy isn't necessary. I mean, remember Hallmark cards? Those were a great way to celebrate your loved ones!
Also found on Etsy are a variety of pregnancy announcement cards like this one. It's beautiful, it's to the point, it's affordable, and best of all there won't be any weird down time while you don't quite know what's going on and your partner is like "what are you trying to tell me?".
If that awkward in-between silence drives you nuts, this might be the announcement for you.
Pregnancy announcement to husband: funny ideas
Using a lotto scratch card
Have a hubby that loves to try his luck? Give him one of these super stealthy scratch cards from Amazon. They look totally normal until you scratch off the surface and get the surprise!
Gamifying the experience of realizing you have a baby on the way definitely puts a happy start to the parenting experience, regardless of whether it's the first pregnancy.
Getting your pet involved
Maybe you don't have a kiddo yet to put a t-shirt on, you can always recruit your best friend to help with your big news. Buy a pregnancy announcement bandana for your pup or cat. Depending on their disposal, they might be happy to oblige whil your significant other finds out about the baby to come (and maybe not a moment longer than that.)
Surprising him with a pregnancy announcement coffee cup
This is definitely not for those who have trouble holding a secret. Imagine giving your partner a coffee and waiting not only until it cools, but until they're finished drinking it to see the announcement!
That's what happens with this mug that has a baby announcement at the bottom. This could go wrong if your dearest is one who takes their coffee slowly and distractedly, as they might drink the whole thing while, say, reading the news or watching a video without ever looking at the bottom, but hey. It's a nice idea if you're open to pushing a little to get them to look at the bottom of the mug.
Having a photoshoot
If having a photoshoot is already in your plans (maybe engagement photos, couple photos, etc.) this can be the perfect time to sneak in a pregnancy announcement.
Here's how you do it.
Prepare a sign to surprise him with and have the photographer in on it. Sometimes, the photographer will ask each person to write something on a small chalkboard or whiteboard to show each other. "It makes for a nice picture," they'll say "genuine expressions," am I right? Little do they know, your little board says "we're pregnant!".
Want to see it in action? Check out this family's photoshoot announcement.
How can I surprise my husband with a pregnancy test?
Some of the best announcements are done with the pregnancy test itself. Did you just pee on it? Yes. Will anyone care? Not really.
There are plenty ways to use your positive pregnancy test to tell the world (or just your husband) that you're expecting.
Here are some of the top ones we found:
New watch or positive pregnancy test?
One mom used the old box for a watch to surprise her husband. The box really threw him off because he knew it probably wasn't another new watch as a present but didn't quite know what it could be. It seems he was totally oblivious to the whole thing because the announcement really got him!
It doesn't have to be a watch but try putting the positive test in a box that hides what's really inside. It'll make the unboxing all the more dynamic.
Mom reveals pregnancy on dad's birthday
What a better present than the news of new life! So if your significant other's birthday coming up, this is the perfect time to surprise him with a positive pregnancy test!
Using a digital one is the easiest way because you'll be surprised how many men don't actually know what a pregnancy test looks like. If it just says "pregnant" it'll save a lot of the guesswork.
Take a look at this mom who did it and had a super satisfying results.
A Christmas announcement
Much in the same way, a christmas present works just as well as a birthday one. Especially because your husband is likely expecting everyone to get a nice gift and his to be similar in price and thoughtfulness to the rest.
If you already have children, he might be expecting the highlight of the niight to be seeing them open their presents. Wrap up that positive pregnancy test like a christmas present, put it under the tree and watch as he unwraps the best news of the year.
This family did it and, well, it's safe to say we teared up.
How to tell husband you're pregnant: unplanned babies
Whether you planned for your pregnancy or not, an announcement can be super exciting!
If you're looking for a trendy way of announcing your first pregnancy and it wasn't exactly planned, you have all the more surprise factor to work with!
A hello daddy onesie
These onesies are so cute and will be a very obvious way of announcing your pregnancy. Put this in a gift bag and your loved one will be thrilled the moment they open it.
You can find them in stores, on Etsy, on Amazon or even make your own!
Simply get a newborn onesie and design the announcement you want on it. Whether it's #1 Dad, "Hello daddy" or "coming [insert due date here]" it'll be something so cute you'll want to frame it after.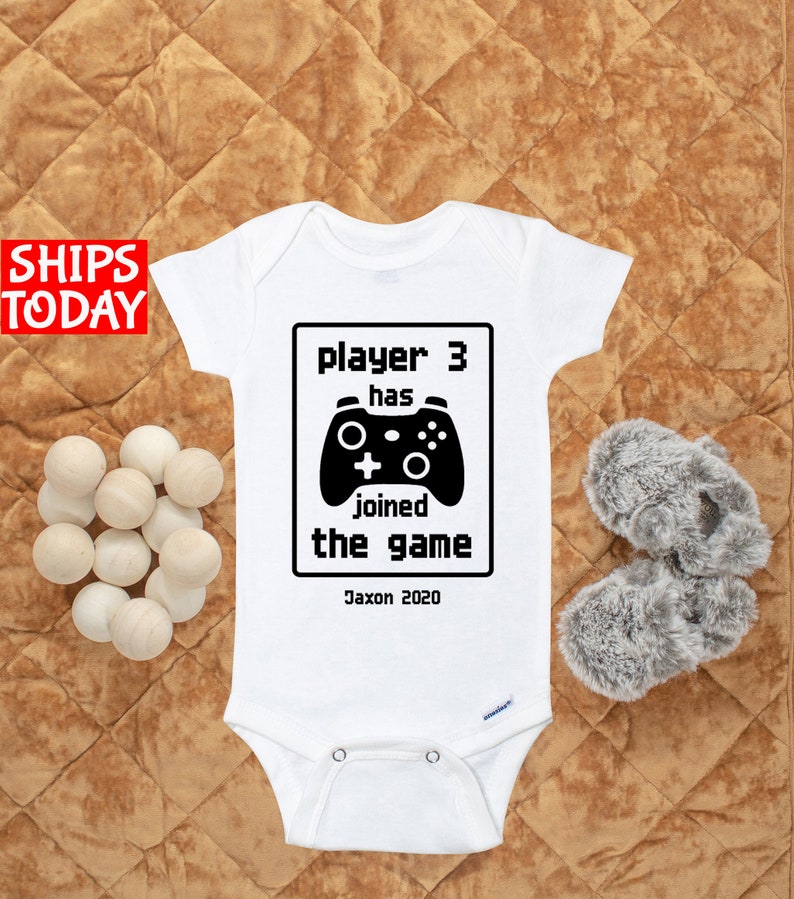 3rd pregnancy announcement to husband
If you're pregnant with baby number three, there are a variety of options to announce it that are super cute.
Our favorite is game-related and will appeal both to your husband and your other children. This little onesie says "Player 3 has entered the game" and if that doesn't get you excited about the beautiful chaos that will be your life with three children, we don't know what will.
This new baby better get ready for a life of being the tie-breaker for his siblings and basically the whole family and dad better prepare for baby #3.
Does it really matter how you reveal your pregnancy?
Frankly, it doesn't matter if you do an Instagram-worhy pregnancy reveal. Marriage, pregnancy, and relationships are so much more than what we see on social media. If you and your partner simply noticed symptoms, went to the store together, and bought a pregnancy test, waiting patiently for it to, as Juno would say, "cook," and didn't get the reveal on video, it's ok!
You have a beautiful life coming into the world and a ton of changes that will happen very soon. You're allowed to not go through it alone and not share it publicly either.
So whether you chose to go with a big announcement or a tiny whisper, baby is still on the way, you're still pregnant.
Congratulations!
---