Last updated on: Dec. 21, 2022
For some moms what to pack in a hospital bag for baby delivery is a no-brainer. They're either entirely unconcerned or they've done it before and they're totally laid back. They've basically got it "in the bag".
Ok, that was the only pun in the whole post, we promise.
Now that that's over with, let's get to the good stuff. Today on our post we're talking about hospital bags, preparing for Baby, what you don't know that you'll need once you get to the hospital, not forgetting about dad (of course!), and more.
If you have any questions or items you'd like added to the list, leave them in the comments! Every mom has valuable information that they can pass on to others and we love to be the place where the sharing happens!
Guide to this post:
What to pack in hospital bag for mom (and when to pack them)
Mommy's hospital bag comes first. Even though dad may be staying there too for a couple of days and the baby is sure to need some things when they arrive, mom's needs come first this hospital visit.
For most pregnancies, this packing can take place anytime before week 36 or 37. If you have special instructions from your doctor about your particular pregnancy, by all means, pack when they recommend so you're ready.
Inside, use the pockets and compartments to keep the post-baby things at the bottom and the during-labor elements within reach.
Basics
Driver's license
Insurance card
Pre-filled-out forms
One thing you'll want to have in an easy-to-find place is your birth plan. This way it can be read from and handed to anyone who needs it at any time.
A comfortable robe should be on your packing list, if not in your bag, then on a hanger or something you can bring and place in your hospital room. Getting dressed after giving birth is an unnecessary pain that can be avoided almost entirely by bringing a robe in which you can lounge around, breastfeed, and rest as needed. Other comfortable clothes you might want to pack include a nursing bra, nursing tank, lightweight pants, postpartum leggings, slippers, and easy slip-on shoes for your trip home.
Bring clothes that you fit into when you were at about 6-7 months pregnant. While you won't be back to your pre-baby size for a minute, you also won't be quite as big as before birth. Clothes from around that time will be suitable. The Goldilocks of postpartum clothing. Not too tight, not too loose. Just right.
(Tip: something no one tells you about birth is that your feet will be MORE swollen postpartum than during pregnancy due to the IV fluids. Read more tips from real moms here.)
Hospital bag checklist for mom
A reusable water bottle and electrolyte drinks like Gatorade or coconut water.
Diapers (yes, still for mom) We don't want to be the ones to break it to you but that first bathroom experience will be a difficult one after birth. It will be hard to do what you used to do as a regular human for a while and diapers allow you to not worry about ruining your perfectly good underwear with totally normal body functions.
Warm socks hospitals can be cold and even though you won't be wearing any tight-fitting shoes, you want your toes to be comfortable if you start getting a little chilly. It seems banal, but there are few things that make you feel as uncomfortable as having cold feet.
A full mom kit: A lot of these essentials (and more) can be found in the Frida mom hospital kit which has things you wouldn't even have thought of! (especially if it's your first babe) From their description: "This kit includes all 5 steps of the Frida Mom Postpartum Recovery Regimen to cleanse, wear, cool and absorb, soothe and relieve pain in the perineal area. 1 Delivery and Nursing Gown ( One Size, fits XS-XL) 1 pair of Labor and Delivery Socks, 1 Upside Down Peri Bottle, 4 Instant Ice Maxi Pads, 1 pack (24 counts) Perineal Cooling Witch Hazel Pad Liners, 1 bottle (net 5 fl. oz.) Perineal Healing Foam and a Toilet-top storage caddy with carrying case."
Toiletries
Nipple cream
Toothbrush/ paste
shampoo/conditioner
Face wash/ skincare
Lotion
Lip balm
Things you might forget
glasses/contacts
Deodorant
Hairdryer/ straightener (if you wish)
Hairbrush
Hair ties
Make-up
Chargers
Cash (a small amount for vending machines, etc.)
Gift to siblings from baby
Ear plugs
Neck pillows/ other comforts
What to pack in hospital bag for labor
Some birthing accessories might not be available to you in the delivery room, so making a list of what you want to have around will be important.
A birthing ball and pump (if you want to use one)
A bluetooth speaker (and a pre-prepared playlist) labor can take hours or even days! and you want the tunes to keep you going. It's better to turn it off when you want silence than to turn it on when you need a certain mood and realize you ran out of songs on the playlist!
Massage oil: massage during labor can help mothers cope with pain.
Snacks (more on this later)
What to pack in hospital bag for c-section
Each type of birth is different. Having a c-section may seem more like a surgical procedure, despite the fact that plenty of natural births also involve some sutures. Packing for a c-section can look a little different so remember to pack some of the following items.
Underwear: no we're not suggesting that you haven't thought of packing underwear, but when it comes to c-sections, not all underwear fit the same. Some soft high-waisted cotton underwear can work well, though you might end up choosing the mesh underwear the hospital gives you in the end.
Incision-friendly clothing: try to avoid any mid-waist or low rise pants after a c-section or even that you choose dresses instead.
Compression belt: this isn't to magically get some supermodel shape back (what is a supermodel shape, anyway?) Instead, it's a binder to keep your incision safe, reduce swelling and support your back. You can ask your hospital if they provide these or get your own.
Stool softener: constipation is a common symptom after a c-section so taking a stool softener can help. Check with your doctor or midwife before choosing or taking anything.
What to pack in hospital bag for Baby (and what not to)
Of course, there's a whole reason why we're going to the hospital, a baby! As such, the baby will need to be welcomed with all the preparations. Of course, we don't have to tell you that. You already know! Just in case you need a checklist though, here are some things to not forget to pack for your newborn.
Hospital Bag Checklist for Baby
A car seat: you will not be able to leave the hospital without one.
Onesies: newborn-sized sleepers for your little one
Going home outfit: this may seem small but can be planned out for pictures you'll keep forever. Try bringing two in different sizes because your baby might be bigger or smaller than the newborn size.
Mittens: little baby hands won't just get cold, they'll also get become a tiny weapon with those nails. Keep their skin safe with some mittens.
Hat: this one actually is to keep them warm
Burp rags: for feeding time only. (here's how to make sure nothing covers your baby's face)
Nursing pillow: These are great for moms who want a great, hands-free experience that lets you rest while nursing.
Your pediatrician's contact information: your OBGYN might be your doctor, but you also want your baby's doctor, your pediatrician to be available to be reached in case of any questions and to receive all the data your hospital gathers about your baby's birth.
Bottles: If you're planning on bottle feeding, back at least two to bring with you. If you're using formula, bring your favorite brand or wait for the hospital- they'll likely have samples for you to try as well.
Swaddles: babies who just made their entrance into the world and their exit from the womb miss the feeling of being embraced by mom's belly. Swaddles recreate that tight feeling that makes them feel soothed and relaxed to sleep safe and sound. Blankets work for this too and are a great addition to that coming home outfit.
What not to bring
Both of these things will be in full supply at the hospital. Moms on forums even suggest taking an extra bag so you can pack some free goodies to take home with you.
What to pack in hospital bag for dad
Your dad or birthing partner will also be having a very exciting trip to the hospital even if this whole thing isn't exactly happening in their body.
Snacks (again, this will come later)
Entertainment: labor isn't always super exciting and sometimes mom won't even need any help at all. During these downtimes, it's good to have a book, an iPad, a laptop, headphones, and things to do and stay entertained.
Sleeping bag and pillow: hospital sleeping materials are not the greatest. Sheets might be thin and itchy, pillows might be flat or hard. Bringing your own sleeping materials will make getting rest in a hospital better, even through the incessant flicking on of lights at 2 a.m., constant checks, and of course, the new baby that needs feeding and attention.
Reusable water bottle
Deodorant
Toothbrush/ toothpaste
Change of clothes
Flip flops
What snacks to pack in a hospital bag
Both you and your partner are going to need your energy for the experience of labor. If we're being honest, hospital food can always be a gamble. It can be long and arduous and short and, well, arduous. So some snack fuel is in order and we have the best (but also yummiest) suggestions to pack.
To keep these as fresh as possible, you can add an ice pack in an insulated bag with our perishables. Set your snacks on the side or a different compartment altogether to keep them from turning into bits. Nobody likes pretzel dust.
Nuts
Trail Mix (homemade or store-bought)
Applesauce packets
Fruit (fresh or dried)
String cheese
Hard-boiled eggs
Hummus
Granola bars
Sandwiches
Of course, whether or not you eat before labor is up to you. Your doctor might put you on ice chips the moment you start frequent contractions or if you're going to be induced, long before that. In that case, the snacks you pack might be more for your partner to refuel to be there for you at their full strength.
Top Picks for the Best Hospital Bag for Mom
Now that we've run through the fundamentals for a smooth hospital stay, it's time to pick out the perfect bag! You'll want a handy, reliable, and perhaps stylish bag stashed by the front door as you get ready for Baby's arrival. Although there's no universal buyer guide for every soon-to-be parent, we found the following features especially useful:
1. Capacity
An ideal hospital bag should give you plenty of extra space to hold just about everything moms will need after delivery. Some bags even have an expandable design with a zipper at the bottom. Several mesh pouches on the inside or drawstring bags can also serve to add extra space.
These features make for the best hospital bags even if you're an over-packer. With these roomy bags, you can pack several days' worth of clothing, toiletries, and other maternity essentials. Check out this link if you're looking for a hospital bag with the largest capacity!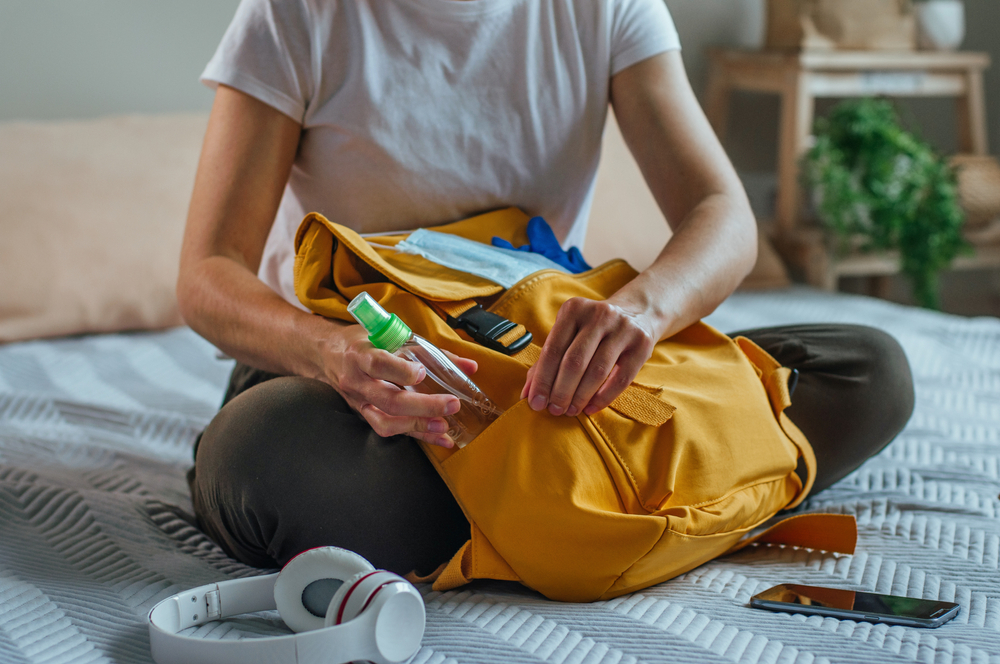 2. Compartments & Organization
A roomy bag is even better when it can help you keep organized. That's why multi-purpose compartments are definitely what we look for in the best hospital bag for moms! For instance, spacious compartments enable you to categorize items and conquer any possible bag chaos. Also, keep the bag clean and functioning by leveraging slip pockets. And outer pockets are perfect for smaller stuff you'll want easily accessible, such as wet wipes.
Separate dry and wet compartments are another bonus. Designed for storing wet clothes or towels, they're often made of waterproof fabrics. Some of them go one step beyond with zippered pockets to keep moisture in. With this feature, you'll be able to prevent other items from being soaked. For smarter and easier packing, check out these bags that will help you make the most of limited space.
3. Durability & Comfort
If durability is a key concern of yours, consider bags that are made from anti-wrinkle, wear-resistant, waterproof, and double-layer fabrics. A sturdy polyester body, for instance, will make a bag ideal for long-term use and strong load-bearing. Also, make sure the handles are securely attached to deliver extra stability.
In the meantime, an ideal hospital bag should strike the right balance of sturdiness, comfort, and portability—just don't go overboard and end up choosing a bag that's too heavy to carry. Some bags feature adjustable and padded shoulder straps, which adds to total comfort. Follow the link to invest in a bag that's comfortable and durable to use!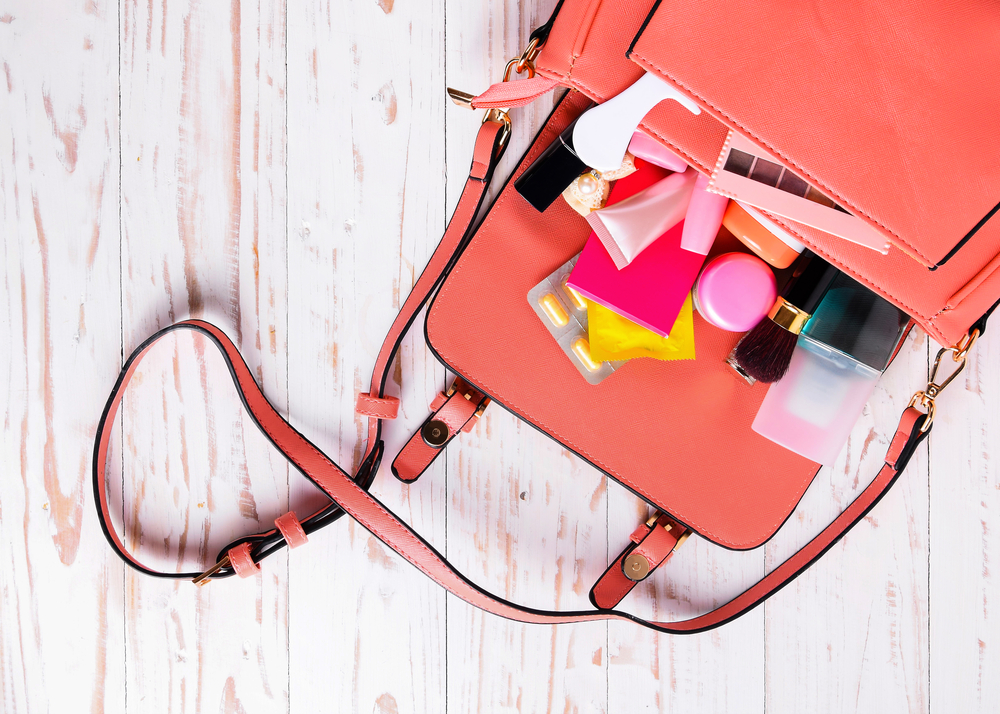 4. Style
We believe that the best hospital bag for moms should be both functional and fashionable. For example, how do you like to carry your bag? You might carry it over your shoulder, on your back, or by the bag's handles. Since it's on your person for most of the day, why not make the hospital bag part of your personal style statement? Choose from various patterns and styles: from classic and minimal, to kitschy and bold to match your hospital bag to the outfit. Because ultimately, the best hospital bag for moms shouldn't only be utilitarian, it should be stylish and satisfying to use!
Pre-Packed Hospital Bags
What if you can find all your delivery essentials in one place? This is when pre-packed hospital bags come in handy. If this sounds appealing to you, by all means, get one! Packing anxiety is a real thing and if you would rather not stress over it, this is a convenient opportunity to wash your hands of the whole ordeal and have it delivered instead. (Granted, using these, you'll still have to pack your personal items). Besides, they can make for thoughtful gifts, as they've done most of the hard work for moms.
In the end, regardless of which bag you choose and what you put in it, it's your unique hospital experience. It's best for you to be comfortable and ready for the amazing journey you are about to begin with your favorite new person.
What was your preferred hospital bag? What did you put in it? Tell us in the comments!
You might also like: