Preparing your nursery for a newborn can bring up a lot of questions. Especially when every baby decor article is telling you how much you should not keep your baby in their crib when there's anything in it. So, are crib mobiles safe nursery decor? What are they even used for? All this and more on our post today.
Guide to this post:
Are Baby Mobiles Important for Development?
Yes! Crib mobiles are great for your little one's development, stimulating them in several ways. For one, they offer visual stimulation, whether you have a baby mobile with lights or just bright colors. Babies will have something to look at and focus on, teaching their little eyes how to focus on objects in motion. This also helps them with motor skills, developing spatial awareness and mastering hand-eye coordination when they start reaching for these hanging objects. Since the mobile will allow them to develop all of these skills with time, as the right milestone comes around, it's good to raise it as they're able to sit up and stand in their crib to keep them safe. But we'll get to more baby mobile safety tips later.
Mobiles and Sleep Quality
Using mobiles during your baby's sleep routine can be a great way of giving your baby cues that it's time to sleep. The same way you have a routine to take a bath, read a story, and feed, you can add a mobile before finally drifting off to sleep. This can further sleep train your baby into going into their crib awake and falling asleep there.
Keeping a mobile above their crib can be a soothing movement that soothes them to sleep and comforts them when they wake up, sometimes even allowing parents a longer snooze.
Safety Tips for Crib Mobiles
The best age range for using mobiles according to the AAP is up until 5 months or until they start sitting. If your crib mobile's strings are too long (longer than 7 in.), then your baby can reach up to pull them down and possibly get tangled up in them. Once they reach the age when they sit up, the mobile would either have to be raised out of reach or taken off entirely, though the AAP recommends the latter.
Secure attachments
Make sure that any attachments on your crib mobile are securely attached and can't pose a hazard for baby to try to swallow them. This is the case not just for the mobile itself but also for any hardware or mount used to place the crib mobile.
Practice Safe Mounting
Take into account that your newborn has a range of sight that focuses at between 8 and 12 inches. The general recommendation is to hang the mobile 16 inches above the surface of the mattress and test if the baby engages with it. If not, it's okay to lower slightly until they're a little older. The strings shouldn't hang below the crib railing.
Maintain after Installing
After installing according to the manufacturer's instructions, make sure that all parts are secure and tightened regularly (like you do with cribs). Then, register your model so you can hear if there are any recalls.
Read more on safe crib accessories
Best Crib Mobiles for Nursery decor
Not all moms enjoy putting together a nursery that's perfectly color matched. For those that do, anything that clashes with their curated aesthetic can really be a pain. (See our nursery-friendly smart baby monitor for reference).
So let's take a look at some of our favorite mobiles for nurseries that fit right in. From wooden mobiles to handmade Etsy mobiles and more!
Baby Mobile DIY: Best Etsy Mobile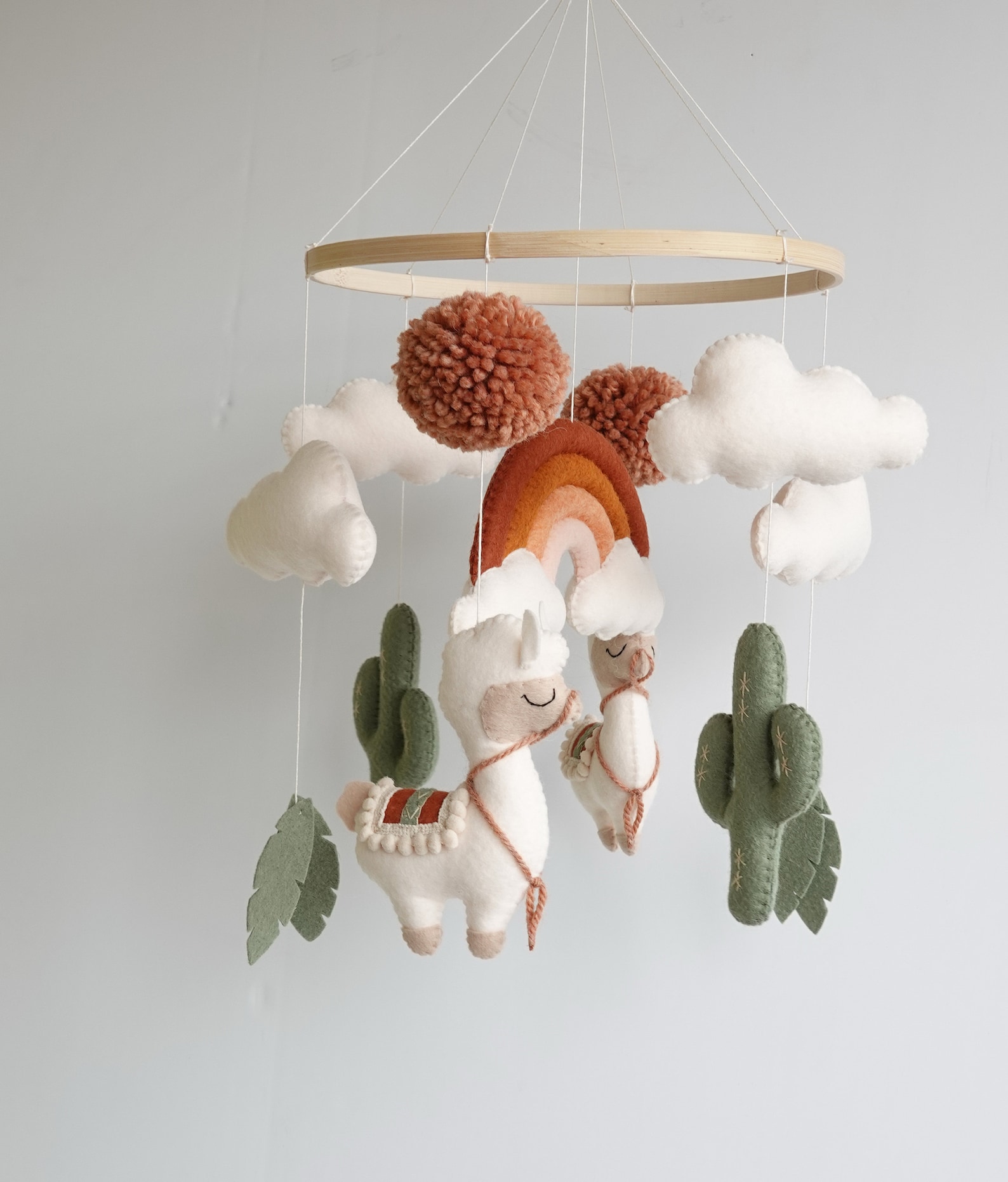 This Etsy mobile has adorable earth tones for any nursery that's looking for a colorful desert feel. After all, those earth tones are super in lately!
Since it's handmade, purchasing one of these can be kind of hard but there are a few on Etsy similar to it. The hand-sewn felt design without the overload of color some other mobiles bring, can be exactly what you're looking for. Are these crib mobiles safe? Always double-check the strings before installing.
If pompom clouds and cacti aren't exactly suited for the nursery you're currently putting together, don't worry! There are lots of designs available both on Etsy, Amazon, and other retail stores that can have a similar simplicity that's more up your alley.
Let's take a look at some more.
Crib mobiles for girls
This Peanutshell Pink Woodland Animals Musical Crib Mobile has 12 lullabies included in case your baby monitor or white noise machine doesn't include it.
It says it's for girls mostly because of the colors, assuming your nursery is pink for girls, but of course, feel free to use it for your baby regardless.
Something else that's interesting about this mobile is that it's a digital crib mobile which means you don't have to wind it up. Just press the button to start the music.
The felt leaf and soft velour animals are popular with parents and babies alike.
Crib mobiles for boys
The isilky Baby Crib Mobile with spaceships is great for a blue, gray, or darker decor (whether it's for boys or girls) and looks adorable above your little space explorer.
This little mobile gets back to basics with no digital aspects, music, or extra features, which also means no extra plastic bits cluttering up your nursery.
Though they're not madly popular on Amazon just yet, they do have a 100% money-back lifetime guarantee, so if you don't like it, you can always send it back.
Baby mobile with lights
The INTMEDIC Baby Musical Crib Mobile is a lot more like the mobiles of the '90s and 2000s in that it's a lot more plastic and multi-colored. Hear us out though. This baby mobile projects a starry night onto your baby's ceiling. If they're sensitive to lights, that and the glow-in-the-dark material on some of the hanging pieces might not be great.
If on the other hand, your baby likes to have something like a night light to soothe them, this could be the mobile for them!
Other options if you don't want this particular style of baby mobile is using your other baby gear's night lights.
Best High-Tech Crib Mobiles
This Caterbee Baby Mobile has lights, music, and a remote. While you won't be able to control the mobile all the way from your room, you might be able to get away with controlling it from just outside the door.
Again, the design is pretty old school, but if the remote makes it easier for you to soothe your baby while not disturbing them, all the better!
Pros of this mobile: you can adjust the volume settings, take apart some of the sections and also projects light!
Want to see how else your baby can be soothed to sleep? Check out our smart baby monitor!
Like this post? You might also like…