When we become parents, it is second nature to put our baby's health and safety first and foremost. Especially as first-time parents, figuring out a lot of things can be overwhelming–from naming your child to learning how to calm them down. In essence, parenting is a step-by-step process that one can only learn from experience and yes, a little bit of research.
So today, we are here to help you with one of the most common dilemmas of new parents: choosing baby mittens.
You might wonder: Are Baby Mittens Safe to Sleep in? Baby mittens are specially designed to keep babies from scratching their delicate skin, which is very important since babies tend to scratch themselves while they're sleeping.
Baby mittens are lightweight protective gears for infants. They are usually made out of wool or fleece and soft cotton. You can put them on their tiny hands while lounging indoors, during their naps, or outdoors. Some mittens also have a soft elastic band in the wrist so no matter how much they move or shake their hands, they will not fall off. You can find them in simple white colors or in fun prints as well.
How to choose baby mittens?
Babies have different needs, so there are various kinds of mittens for every situation you find yourself in. From newborn scratch mittens to winter protection, you will find different sorts of mittens to choose from.
The best baby mittens should prevent unwanted scratches and wounds. They should be soft and lightweight, comfortable to wear, and have extra room for all the little hand movements. The best mittens should be safe and easy to wear for infants.
Here are a few tips on choosing the best mittens for your little ones:
Try to choose breathable cotton fabric mittens. Though wool mittens are very warm, you can look for fabrics that allow proper air circulation to prevent your baby's hands from sweating.
When choosing the size of the mitts, they should not be too tight or too loose. It must have enough room for your baby to move their arms freely but snug enough so they do not slip off.
Make sure that the fastening method is secure enough, so they do not fly off when your child starts moving around.
How much are baby hand mittens?
Much like other articles of clothing, hand mittens should be chosen by their quality. It has to be comfortable, where your baby can relax and be safe. Baby mittens differ in prices depending on the color, style, and functionality (ie. will it stay on your baby's hand for a long time). From as low as $5 to $6 you can get breathable yet soft organic cotton with elastics on the wrists. On the contrary, there are also pairs that rack up to $30 per pair.
How long can my baby wear hand mittens?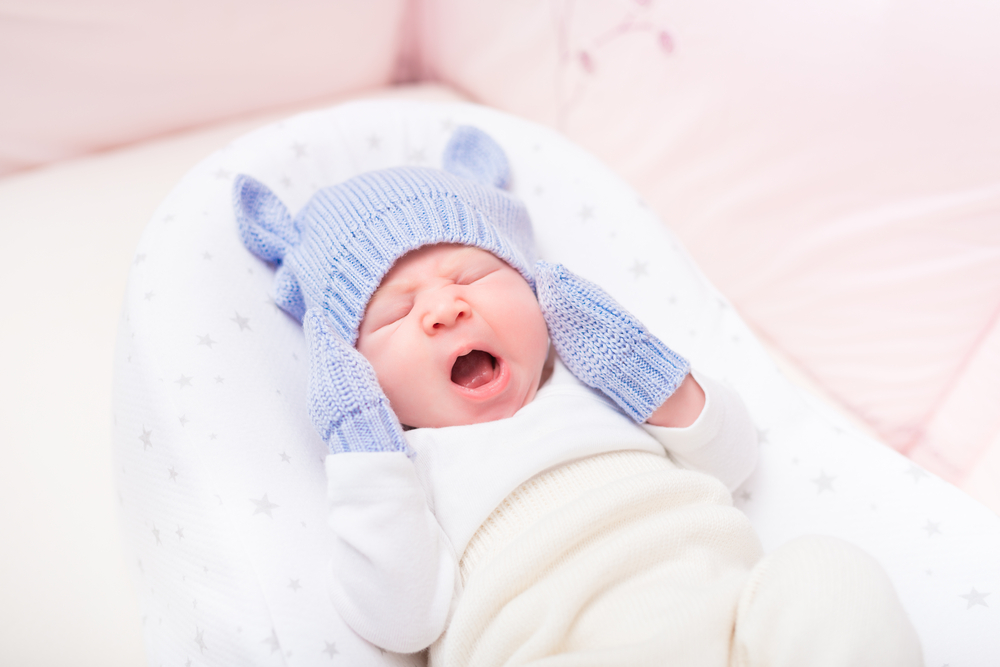 Hand mittens are useful for newborns. As they learn to move and develop their motor skills, their unintentional movement can cause a few nicks and cuts. Baby mittens then help decrease scratching which is especially important for babies that have skin irritations or eczema. By putting them on, it is easier to avoid unnecessary wounds and injuries.
It is also a fact that even as newborns, babies already have sharp fingernails. As a recommendation from the National Sleep Foundation, infants should wear protective mittens when they sleep.
Since infants' hands are sensitive to temperature, they lose body heat much more rapidly than adults and older children. Additionally, because they don't have a lot of body fat, their fingers may turn blue when it's cold and red when overheating due to a lack of insulation and underdeveloped body-temperature management. This is why mittens are advisable to help infants regulate their body temperature.
Whether you prefer to let your baby wear mittens or not, is entirely up to you. As their parent and the closest person to your baby, you understand your little one best.
Now, if you choose to wear mittens on your baby, make sure to follow safety guidelines. The American Academy of Pediatrics recommends that the mittens are made from breathable cotton to prevent overheating and SIDS. The mittens should not be so tight that their fingers are crumpled.
While it is not obligatory, usually newborns under the age of one wear mittens for protection. This is also because babies tend to move around in jittery motions as they start to develop stronger motor skills.
Now, how long should they be wearing mittens? The answer depends on their development. Are they able to control their reflexes well? If you see that your little one can control their hand movements well then they can stop wearing mittens. As babies grow, they need their hands to improve their senses in order to learn about their environment. But if you have any questions or are unsure about the use of mittens, feel free to talk to your pediatrician.


Top 5 Best Baby Mittens (that stay on!)
Here are the top baby mittens for your little one, as chosen by parents just like you.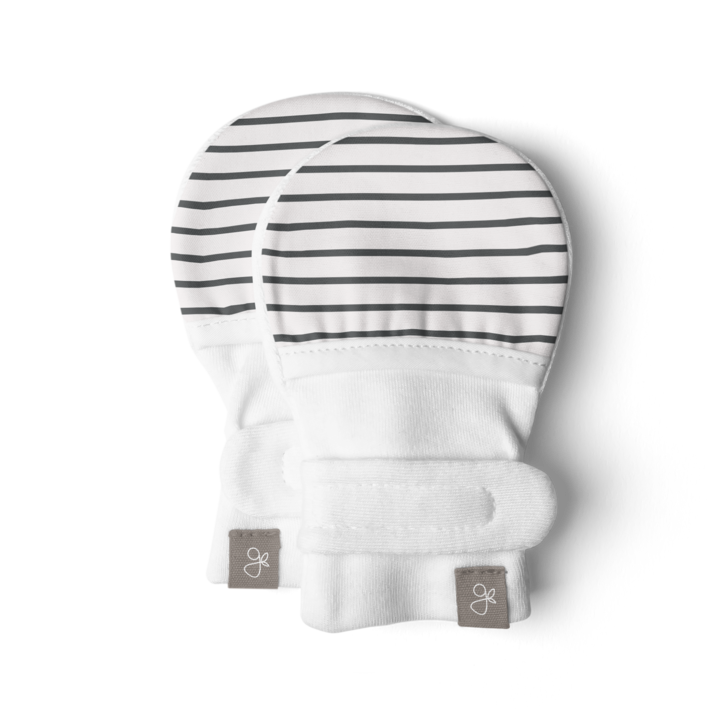 1. Best Scratch Free Baby Mittens: Goumi Organic Gray Stripe Mittens $14
The Goumi baby mittens are the top mittens overall. They are featured on most lists as a must-buy and have additions that make the baby mittens safe and give peace of mind.
They include a bamboo and organic cotton blend that is soft on the skin and protects your baby from scratches. The gray stripe is gender neutral and suitable for all babies.
The two-part closure system makes the baby mittens safe and stops them from falling off. They are also adjustable, so you will get good value for your money since you can continue to use them while your baby grows.
You can purchase these over on the Goumi website.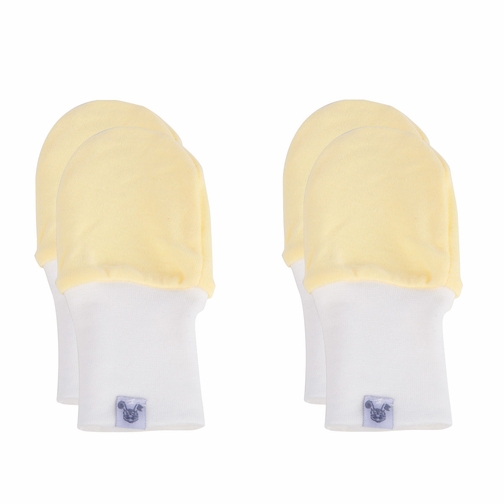 2. Best Non-Slip Mittens: Crummy Bunny Newborn No Scratch Mittens (2-Pack) $12
The Crummy Bunny baby mittens are adorable.
They are made from 100% cotton with a stretchy band and come in neutral colors. They don't use velcro, and because of this, they don't restrict your baby's movement or pinch their wrists. The mittens are roomy, encouraging your baby to explore with their hands.
These baby mittens are durable and come with a one-year replacement guarantee should you lose or damage them! Ideal for those times, when one vanishes in the wash.
Buy this Crummy Bunny mitten set today.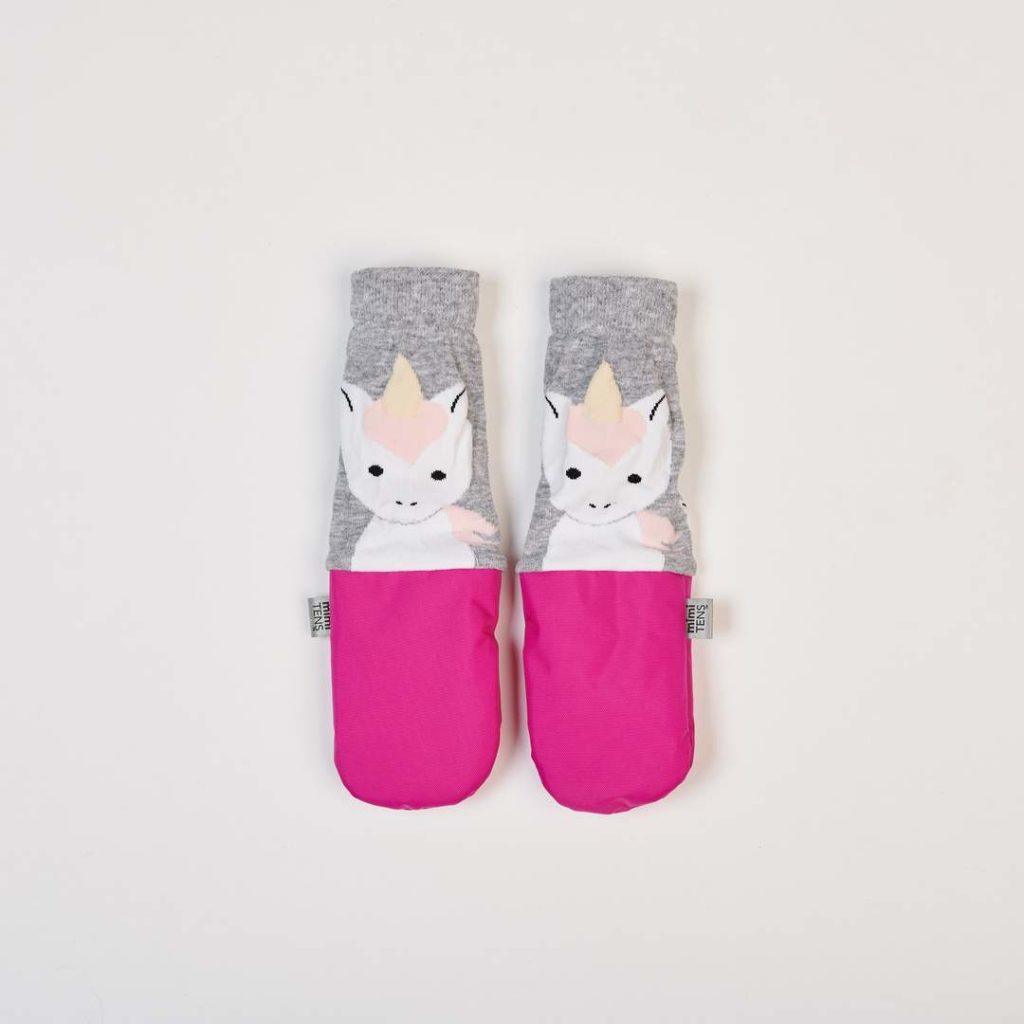 3. Best Waterproof Mittens: MimiTens Unicorn Pink Mittens $30
The MimiTens baby mittens are made with a unique 420 denier water-repellent nylon. They are ideal for the baby that has frequent leaks or loves to chew on their hands.
They come in a range of exclusive animal designs, but we love this unicorn design the most! They also stock five different sizes to suit your growing baby.
The cotton/lycra blend sleeves make these baby mittens safe by preventing easy removal. If you live in a colder climate, these are the mittens for your baby.
Check out the MimiTens website now.

4. Best Integrated Onesie with Baby Mittens: Gerber Long Sleeve Bodysuit with Mitten Cuffs (3 Pack) $16
If you require baby mittens but you are concerned about your baby removing them, the Gerber baby bodysuit with mitten cuffs are perfect for you.
Take the worry out of purchasing baby mittens by integrating them into your baby's outfit. This innovative design is made from 100% breathable cotton. It features mitten cuffs that can fold back when you decide to remove them. This bodysuit is perfect for layering during colder months and has an expanded neckline and snap closures for easy access changes.
Take a look at this three-pack set to get a great bang for your buck.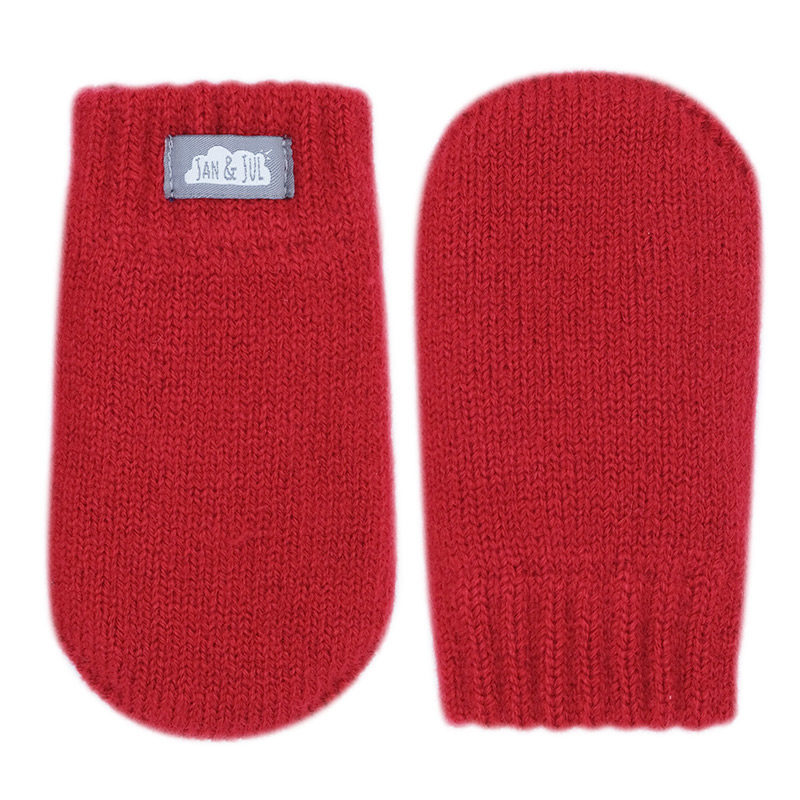 5. Best for Winter: Jan & Jul Sherpa Fleece Mittens $14
Perhaps you live somewhere that is cold year-round, and you are concerned for your newborn. Jan & Jul stock a fantastic range of warm baby mittens that are suitable for a winter climate.
These fleece-lined mittens are hand-knit and do not use harmful chemicals or dyes. They feature an elastic wrist band which makes the baby mittens safe to leave on. The Sherpa fleece lining ensures your little one will stay toasty throughout the day.
Jan & Jul offer two different sizing options and a fabulous choice of colors. Try these red knit mittens that are great for boys and girls.
Choosing from Different Kinds of Baby Hand Mittens
When choosing hand mittens for your baby it is important to note the various factors such as material, price, size, level of comfort and safety, and how long the baby will use them. There are several kinds of mittens that have been developed throughout the years to cater to the needs of newborns as they grow.
1. Baby Scratch Mittens
These are designed to be extra roomy mittens for babies who tend to scratch themselves or suffer from eczema. With the extra space, your baby can close-open and stretch their little fingers to their heart's content. There are also available designs for mittens that have thumb holes so those thumbsuckers can easily self-soothe.
2. Winter Mittens
Since it's now halfway through the season, it's time to get your infant prepared for winter. Winter mittens have large wrist openings so it is easier to put them on and take off your little one's hands. They are also extra-long and usually have fasteners to hold the mittens in place and prevent cold air from seeping in. There are also winter mittens that will not only keep your baby's hands warm but also dry with waterproof materials.
3. Teething mittens
Teething mitts are designed not just to protect your baby from scratches but also to help the little ones who can't hold a teether yet. Teething mitts are safe on the baby's gums and are recommended for ages 3 months and up. Teething mittens are perfect for comforting your child during the teething process. These gloves are gentle, with wrist fasteners and a silicone mitt at the end for chewing comfort.
At the end of the day, as parents, what we really want is to keep our babies safe from harm. Mittens, while not a necessity, is still a great way to keep your child from scratches and nicks. However, while mitts are typically safe and useful, it's still best to practice caution.
4. Footed Mittens
These mittens for babies have a snug fit and are made of highly elastic fabric that stretches to help your baby's movements. They have a non-slip grip inside so it is easier for them to grab objects while being protected from scratching themselves. The mittens are also made with breathable fabric to protect your infant's hands from becoming sweaty. We recommend this for babies who have long fingernails or nails that grow out quickly since they can scratch themselves without protection while wearing regular baby mittens.
5. Waterproof Mittens
There are also waterproof baby mittens if you live in colder climates or go on snow adventures. The insulation layer between the outer shell and inner lining keeps your little one's hands toasty warm.
Overall, it's important to do your research and assess the situation when it comes to baby mittens as all factors (needs, materials, etc.) should be considered before deciding what kind of mitten suits your child best.
You might also like: