Having a baby is one of the most beautiful things in the world and the scariest. As parents, you vowed to put in all your heart, but at the same time might not know every detail about how to take care of your baby. No need to worry, we understand! Where should parents place baby monitors so they can properly check on their little ones? Here are things to consider for the best results!
Where to place your baby monitor in the room
Baby monitors are great for parents to help keep an eye on their baby. You want to know that the baby is safe and sound while you are busy around the house and away. The best place to put your baby monitor depends on your needs, but the most important rule is safety. This means keeping the baby safe from the equipment, electromagnetic (EMF) exposure, and getting a good viewing angle.
EMF Exposure
EMFs are waves emitted by electronic products, which may be a cause for concern if overexposed to babies. Studies on digital cordless baby monitors have shown that monitors should be placed no less than 1.5 feet / 0.5 meter away from a baby's crib for EMF safety. Our crib mount products have been specifically designed to extend more than 1.5 feet away for this very reason.
Safe Distance
Some baby monitors come with cords. This can be a potential safety hazard for babies, especially when they start to sit and move around. Place baby monitors with cords away from cribs. Make sure to tuck in the cords or tape them securely to walls and floors. That way, it avoids posing a risk to your baby.
Good Angle
Finally, your baby monitor should be placed somewhere with a proper viewing angle. Proper can be defined by your little one's stage of growth and level of activeness. You may want a closer-up of the crib to check whether your baby's face is covered. Or move to a wider angle with an unobstructed view of the room.
Types of baby monitor sets
Depending on your actual need, there are different types of baby monitors to choose from. Depending on their purpose, baby monitors can be grouped into stand sets and wall mounts.
Stand sets offer mobility for the monitor to be moved around the room. There are three different ways to use it, which extend the longevity of baby monitors from infants to toddlers. The stand set is a good choice when your baby is becoming active.
Wall mounts, on the other hand, have a sturdier setup and give a great overall view. This can be a good solution for smaller rooms as it saves floor space.
Where to mount baby monitor camera
Mounting different types of baby monitors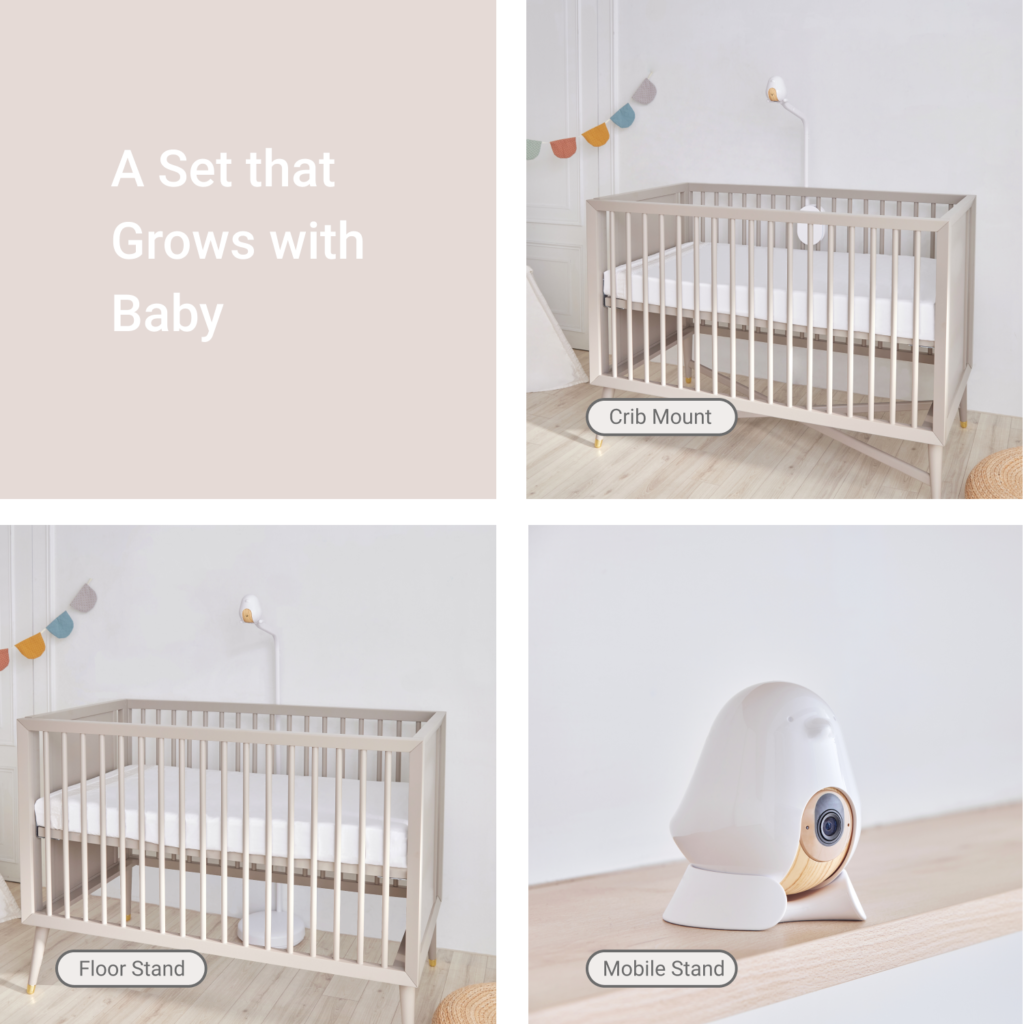 The 3-Stand set comes with 3 different components: a floor base, a crib mount, and a mobile stand.
As the name suggests, the floor base sits on the ground but extends the monitor above the baby to keep a safe distance. It sits on any flat surface and is space-efficient which is a great choice for smaller rooms. The crib mount is best for close-ups of your baby by attaching to the spindles of the crib. There is no cord to avoid potential hazards. The mobile stand instantly transforms your camera into a to-go baby monitor. Effortlessly bring your camera along to a spontaneous sleepover. Set it up on shelves or a position where you can get a good look of the room. You can even program a "danger zone" to have our monitor give an alert when baby is learning to crawl and enters a specific dangerous area (ex: the kitchen).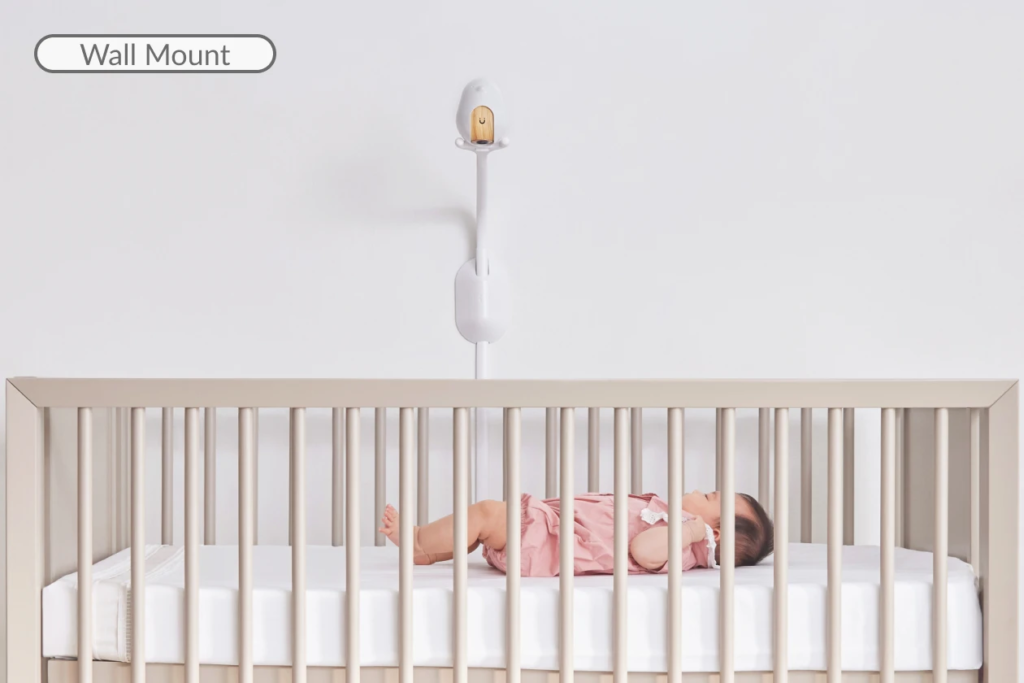 Wall-mounted monitors can be placed in a corner near the ceiling. It provides wide coverage of the baby's room and is also far enough to be out of your little one's reach.
For baby monitors with a remote pan, tilt, and zoom, this is the best installation as it tracks both the entire room and close-ups. Cubo AI baby monitors offer proactive alerts to always make sure you are aware of baby rolling over. In the meantime, you can lull your little one with built-in lullabies, white noise & nature sounds without using additional speakers or a sound machine. Keeping them safe and tucked-in.
How to mount your baby monitor on the wall
Necessary wall mounting elements come with the wall mount sets. You can find everything included in the box with guided manuals. To effectively place a baby monitor on the wall, here are some tips to consider :
Try out the viewing angle and sound. You can have someone position it for you and you can check from your remote view. It should give a correct line of sight, and you should be able to hear sound and proper detection.
Mark out the placement and drill point. This can be assisted with marking tools from the package. As said above, a corner near the ceiling is usually best.
Drill and screw in the base securely.
Attach the baby monitor and Voila! You are done and good to go.
Of course, if wall mounting is not an option in the baby's bedroom, you can always consider the 3-Stand set. A good viewing position is always a must, so you can choose between the wall mount and 3 stand set to give you a full view from above, a close up with crib mount or total mobility with floor stand. You can use the mobile stand which gives total control of height with the perfect angle.
Baby monitor placement in a nutshell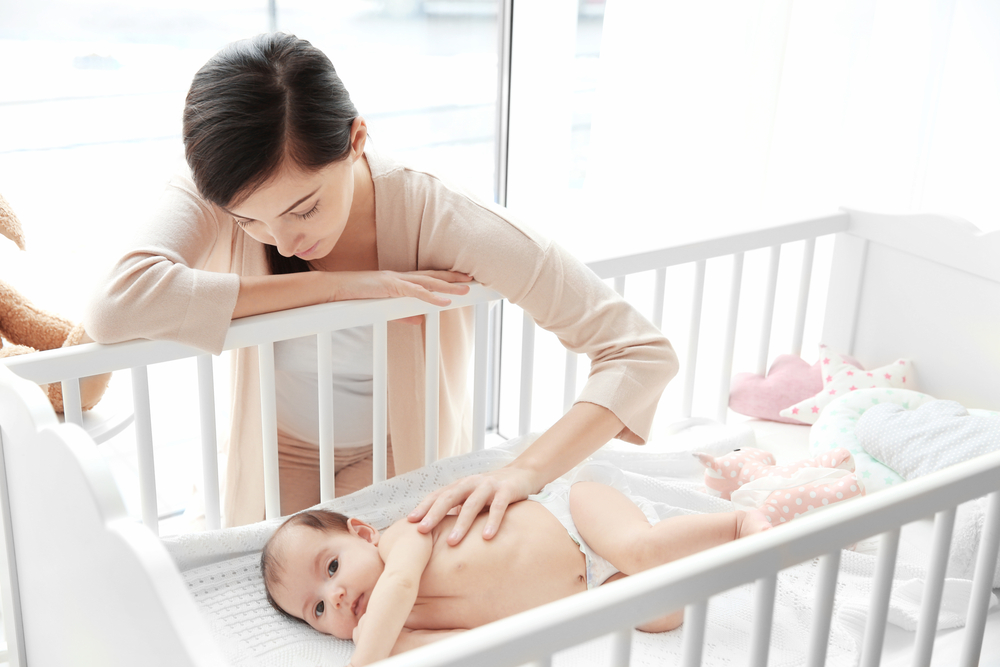 Keep in mind the placement of the baby monitor can change based on your baby's age and how the room is used. But the general rules will always apply. Place at a proper distance, tuck away the cords and find a good viewing position.
For a newborn, place the camera right above their crib in order to have a good view of your child sleeping. Cubo Ai Smart Baby Monitor can detect face covering and rolling for better awareness of baby status. Once your little one is able to sit and stand in their bed, you can switch to a floor stand to make sure your baby's hands can't reach the camera. As your baby becomes active, the mobile stand also gives you great mobility to follow them around.
As for which style to choose, we have a range of offers that will suit your needs. Let us know your thoughts and allow us to support you and share these wondrous moments.
You might also like: