Bringing a baby into the world is one of the most magical moments in a parent's life. You'll never forget the feelings of excitement, joy, and nerves as you navigate this next chapter in life.
We all know that sleep is important when raising your little one. And one of the best ways to keep Baby sleeping soundly is to ensure they're safe and comfortable all night. Then, you can rest easy knowing your bundle of joy is slipping into a sweet slumber.
To make this happen, we've created a complete checklist based on our most popular posts on Baby sleep safety. We know it can be overwhelming to find reliable information online, so we've done the hard part for you! Below we'll discuss everything from tummy sleeping to bedtime routines.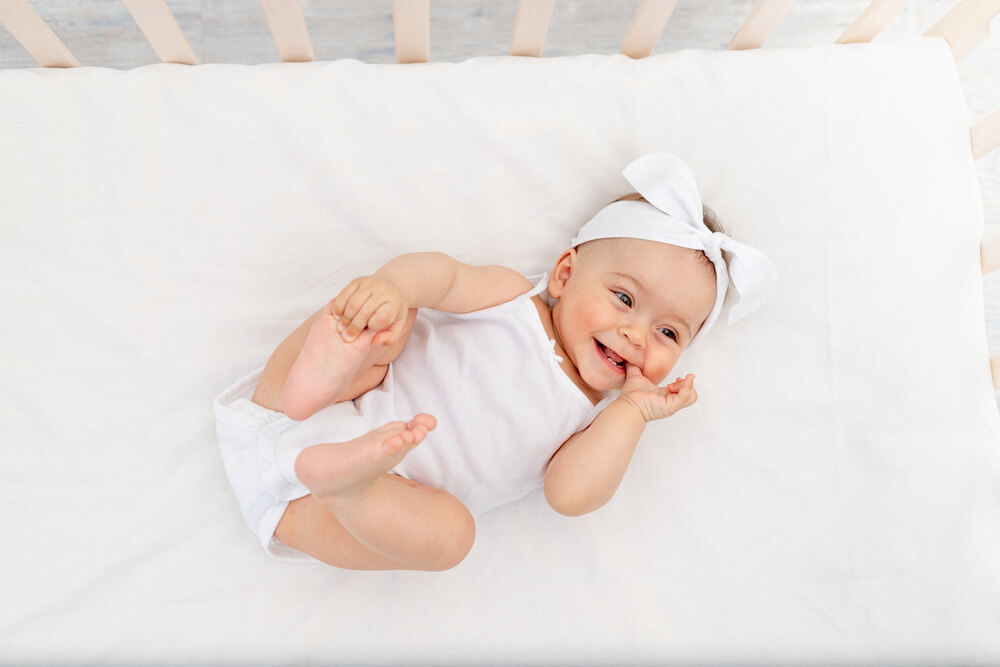 General Guidelines for Safe Baby Sleep
We've rounded up some general guidelines that you should always follow to keep your little one safe at night. These guidelines ensure your newborn is snug and cozy and help reduce the risk of SIDS.
First and foremost, always place your baby on their back to sleep until they're one year old. Back sleeping is the safest sleep position for your little one to sleep soundly throughout the night.

Next, it's safer for babies to sleep in a crib, rather than in bed with their parents. This means they can move freely, without the risk of their face being covered by comforters. It's also beneficial for parents to have their own space at night; babies need sleep, and so do you! Follow the link and find out more about Why is it Bad to Let Your Baby Sleep With You.
It's also important to keep the crib comfortable and safe for your little one. The best way to do this is to choose a firm mattress and use a tight-fitted sheet. This keeps your newborn safe by ensuring they won't accidentally cover their nose or mouth with a loose-fitting sheet.
Introducing a Crib Mobile to Your Nursery
Now let's look at how the perfect crib mobile can comfort your little one at night and create a safe sleeping environment. Consider keeping Baby safe and sound at night using a soothing crib mobile. We recommend ones with bright colors, gentle movement, and lullabies. Learn more about the fundamentals of Baby mobiles in our guide: Why Are Baby Mobiles Important for Development?
The perfect mobile will give your little one something to focus on. It also helps with Baby's cognitive development by promoting imagination and creativity. Wondering how to choose the perfect crib mobile? Check out our guide: How to Choose the Perfect Crib Mobile for Your Little One?
How to Get Baby to Sleep in the Crib Safely?
The next point to consider is how to make Baby's sleep environment safe even when they're unattended. Start by thinking about the placement of your baby's crib. Try keeping it as close as possible to your bed. It's recommended that the crib should be in the same room as the parent's for the first 6 months, which can reduce the risk of SIDS by half!
In the meantime, keep the crib free from frills and accessories for suffocation prevention. Items such as crib bumpers, stuffed animals, and pillows can be potential choking hazards, so it's best to avoid them altogether. To add personal style to your cribs, you can instead opt for a colorful crib mobile or brightly colored frames.
Covering the crib, the safest mattress for your baby is a tightly fitted sheet made from breathable cotton. Make sure to check the sheet before and after washing. Shrinkage can occur after washing, meaning the sheet might not fit the mattress properly. If the sheet is too tight, it might pop out of place during the night and become loose. Learn the best sheets to use on your little one's mattress by reading our guide: Your Ultimate Guide to the Safest Crib Sheets.
How to Swaddle Baby Safely?
Swaddling is a divisive topic in the baby world; some parents love it, and some hate it. The main issue with swaddling is that Baby can become too warm and overheat in a tight swaddle. Therefore, below are a few tips for keeping Baby snug as a bug in their crib without swaddling.
The most crucial factor to consider is the room temperature. Ensure your little one's crib is placed in a warm room where they can sleep comfortably without a blanket. Make sure that windows and doors are tightly closed to eliminate cool drafts, and keep the crib away from the window.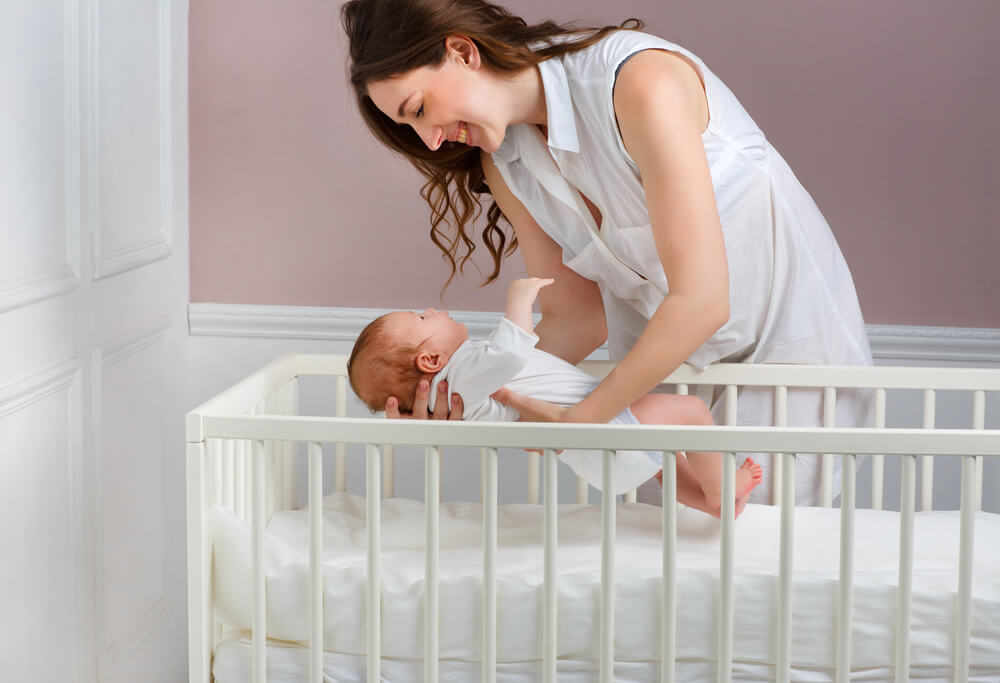 How to Dress a Baby for Safer Sleep?
Opt for soft and breathable clothes, which will prevent Baby from scratching and overheating. Also, consider investing in safe baby mittens —It might surprise you, but babies can have sharp fingernails that can cause cuts and scratches.
To prevent this, you can use soft cotton mittens attached to a bodysuit. The same applies to socks; soft cotton socks keep babies' toes cozy and prevent scratching. Always check that your little one isn't overheating, and use tight-fitting socks and mittens.
Meanwhile, as Baby grows, you might wonder if you can add a blanket to the crib. The best advice is never to let a baby under one year have a blanket or lovey unsupervised. This eliminates all worries at night.
Blankets, loveys, or soft toys in the crib can all increase the risk of SIDS, so avoiding them is best. Instead, focus on creating a cozy room and safe environment for your little one to sleep soundly.
Baby Sleep Checklist: Bedtime Routine
Last but not least, a bedtime routine is essential for safe and sound sleeping for you and Baby. Establishing one will help set your little one's cardiac rhythm, helping them tell when it's night or day. A bedtime routine consists of several calming activities that are usually done in the same order each night. Predictability is comfortable not only for adults but also babies; a good routine helps them relax and feel ready to sleep.
Some tips to include in your bedtime routine are to read a bedtime story, listen to a lullaby, or cuddle before bed. Choose soothing music when putting your baby in their crib to form positive sleep associations.
Remember, each baby is unique. Your routine should be entirely based on your little one's needs and preferences. Most importantly, take it easy and enjoy this precious time in your newborn's life. Sleep routines can take time to develop, so try not to worry.
Keep your little one safe at night by following the tips in our guide. Don't forget to be patient with yourself during this new process; it'll take time to settle in. For extra peace of mind, try the CuboAi Smart Baby Monitor to help keep an eye on your little one all night long. Sleep soundly, knowing that your baby is safe with smart detection technology that alerts you when Baby's face is covered or when they roll over.